Friday, April 26: I receive note from the Kindergarten room parent regarding all the activities for Teacher Appreciation Week at my daughter's school.
Monday, April 29: I send the handmade card to school with my Kindergartner for Teacher Appreciation Week.
Tuesday, April 30: I send a box of Kleenex to school with my Kindergartner for Teacher Appreciation Week. Just in case the box gets lost in the shuffle of ALL the supplies that ALL the kids must be bringing in, I write "To Mrs. Teacher, Love, Sydney" on the box in Sharpie.
Wednesday, May 1: I remind my daughter to be extra nice and thankful to her music, gym, and media center teachers. After all, it's their day to be and feel special this week!
Thursday, May 2: I totally blow off signing up for the Teacher Appreciation potluck. But I do express my thanks to the Heavens above that some Martha Stewart-types will have that potluck covered. You go, girls.
Friday, May 3: I express thanks to the Heavens above that the principal is hosting a Teacher Appreciation breakfast on his own dime and I don't have to remember anything, say anything, or do anything.
Monday, May 6: I get the email from the Principal announcing the START of the fabulous Teacher Appreciation Week, May 6-10, 2013.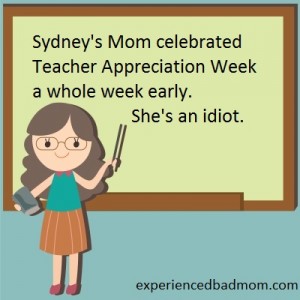 May you celebrate Teacher Appreciation Week better than I did!
Image courtesy of Sicha Pongjivanich / FreeDigitalPhotos.net
This is an article written by one of the incredible members of the SheKnows Community. The SheKnows editorial team has not edited, vetted or endorsed the content of this post.
Want to join our amazing community and share your own story? Sign up here.