I'm a sucker for a good backpack. I want to send my 5 year-old off to school with something practical and well-made but without icky chemicals or cheesy characters. Here are a few favorites for all ages that I discovered during my search for the perfect one:
Back to Preschool
1. Skip Hop Animals.
Super cute animal faces for when your kid still lets you set the style direction. My three year-old loves his monkey backpack from Skip Hop. It's the perfect combination of form, function and super-cute. Also the right size for a little guy who wants to carry a lot with fun pouches and a water bottle holder.
Buy from Skip Hop online or Land of Nod.
2. Mimi's Flowers (or Hybrid Cars).
Cute patterns with eco-styling and details, the coated organic cotton backpacks from Mimi the Sardine are excellent for keeping lunches cool. They resist stains and are machine washable. Yay. Other patterns include jungle and vehicles.
Buy on Amazon or from Mimi the Sardine directly.
3. Not too childish? Bookosaurus.
I hope that this backpack from Dante Beatrix is not too babyish for Kindergarten, because this is the one my son will be toting. Dinosaurs are tough, right?
Buy from Land of Nod or Amazon.
Back to Grade School
4. Land's End personalized packs.
The SmallHaul is built for bodies age 5 to 8, so it will carry the load while still fitting well. Additional details like embroidery (butterfly, basketball), patches (rackets, skier) or monograms allow for a personal touch while steering clear of big-name characters.
Buy from Land's End.
5. PBKids makes a sturdy Spidey.
Not afraid of committing to a character backpack? The ones at Pottery Barn Kids are well-made with strong zippers and durable fabrics. Choose from Spiderman, Batman and Star Wars. I honestly don't know what my son would choose if I let him go down that path. Probably all three!
Buy from from PotteryBarnKids.com or your local Pottery Barn Kids store.
Back to Middle School
6. JanSport has a lightweight option.
There are times in middle school to be flashy and there are times to fade into a wall of lockers. If you don't want your backpack to make a big statement, choose a basic black half pint classic daypack from JanSport. Slim profile, lightweight, small capacity.
Buy from Amazon
7. JanSport has a heavy option.
Alternatively, if your bag should make a statement, JanSport has the SuperBad option too. Large, in charge, with a huge capacity for hauling books (and turning heads). Available in solid colors, black/white (shown) and "putting green plaid."
Buy from JanSport or BagKing.com.
8. Subtle Teen Dot design from The Company Store
Somewhere in between, this backpack is not too big but stylish enough. This is the backpack I would buy for myself if I were allowed to buy myself another bag.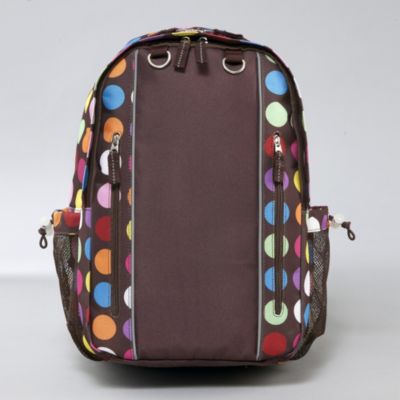 Buy it for me or your teen at thecompanystore.com
Back to High School and College
Once you're built like an adult, you can make choices about whether to lug around 12 pounds of books or just keep it low-key with an iPad in a stylish or sturdy case. If you do carry a back-breaking load of books, check out something with wheels (though I can't imagine it would feel too good on your back!).
9. LL Bean Wheelie.
The rolling deluxe (don't-call-me-a-backpack) bookpack comes in prints (like pink argyle and blue swirls) and solids. Designed for ages 10 and up, seems durable and damage-proof.
Buy from LL Bean, add monogramming for a little more. 20% off all backpacks for a limited time.
10. High Sierra Fat Boy.
Carry everything you need in this spacious (and heavy!) backpack from High Sierra. Choose from a dozen unique patterns. Includes CD/MP3 player pocket with headphone port to keep music accessible.
Buy from Amazon or eBags.com (limited time, 20% off at eBags).
Heather Gibbs Flett is the co-author of The Rookie Mom's Handbook. Along with her writing partner, Whitney Moss, she publishes Rookie Moms and 510Families.com. She has been attending BlogHer conferences since 2005. Heather wrote a cheat sheet for How to pack a kickass lunchbox if you need something to put in your new backpack.
This is an article written by a member of the SheKnows Community. The SheKnows editorial team has not edited, vetted or endorsed the content of this post.
Want to join our amazing community and share your own story? Sign up here.