With Kay's start of kindergarten drawing ever closer, I've done my share of the "what if?"s. What if she doesn't know enough? What if I haven't taught her enough? Does she know all the letter sounds and numbers she needs to know? What if...?
   It's wearisome for me, and puts undo pressure on her (though I try to avoid that at all costs).
  But there are some things, academics aside, that all kids need to be ready to learn on the first day of kindergarten (or any grade level). The good news - you've probably been building these up all along!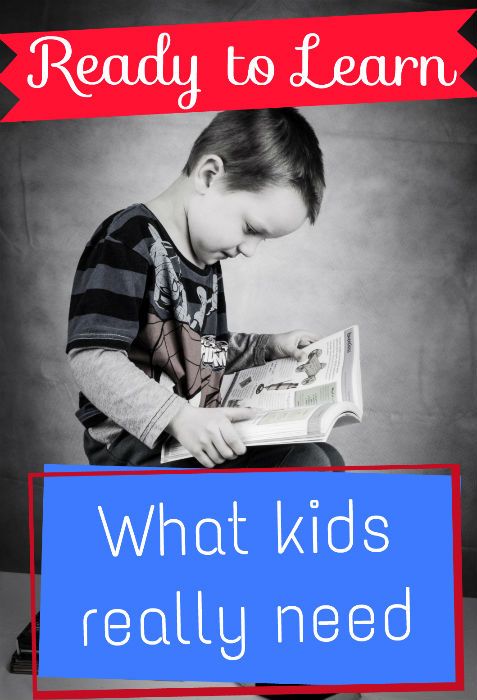 * They need stability. They need to have a consistent caregiver in early childhood so they can build trust. They need to know where they're going to be each day and generally know what to expect. This way they feel confident they can handle each day. They need a good night's sleep without undue stress or worry.
  * They need nurturing. They need someone to comfort them when they fall and scrape their knee and hug them after a bad dream. They need you to make sure they have enough food and are warm, the necessities and the extra little things that show you care.
They need support. "You can do it!" Whether you say those exact words or not, your actions and words should convey that you believe them to be capable at whatever they attempt, but that you'll also be there when they fail. Always.
  * They need to feel safe. If a child is afraid they are in physical danger, all else is secondary, including learning. A child should feel safe and free from physical harm. They should get into their beds at night and perhaps worry about monsters, but not about any real threat. (Although those monsters seem pretty real to them!)
  We don't get it right all the time. No one does. (Even those parents you think are so "perfect!") We'll get mad, we'll yell, we'll go check the mail just to get 2 minutes of alone time (I can't be the only one!) but ultimately, if you're taking the time to read this, you're likely doing it just right. That is, just right for you - the best you can, with what you have.
   In short, don't worry so much. Just love them!
This is an article written by a member of the SheKnows Community. The SheKnows editorial team has not edited, vetted or endorsed the content of this post.
Want to join our amazing community and share your own story? Sign up here.