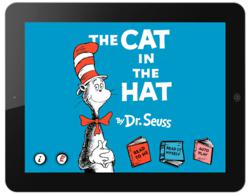 More than 40 Dr. Seuss apps are on sale through March 7th! In honor of Dr. Seuss' birthday and Read Across America Day, Oceanhouse Media (along with Dr. Seuss Enterprises) has put their entire Dr. Seuss digital book catalog ON SALE.
And if you didn't know Dr. Seuss' spectacular books have been turned into child-friendlly and mom-approved mobile apps, now's your chance to check them out while getting a deal. For example, the award-winning The Cat in the Hat digital book app is 99 cents (regular price $3.99) and The Cat in the Hat camera app is free (regular price id="mce_marker".99)
To make is easy for you, I've compiled a list of Dr. Seuss apps. All you have to do is click on the link. I can't wait to download some of my personal favorites! For links to these apps, visit The Jenny Evolution.

On Sale Apps:
The Cat in the Hat – Dr. Seuss – Oceanhouse Media
The Cat In The Hat Comes Back – Dr. Seuss – Oceanhouse Media
Dr. Seuss Camera – The Cat in the Hat Edition – Oceanhouse Media
And to Think That I Saw It on Mulberry Street – Dr. Seuss – Oceanhouse Media
Dr. Seuss Beginner Book Collection #1 – Oceanhouse Media
Dr. Seuss Beginner Book Collection #2 – Oceanhouse Media
Green Eggs and Ham
How The Grinch Stole Christmas!
Dr. Seuss's ABC
Dr. Seuss's Sleep Book
Gertrude McFuzz
Hop on Pop
Fox In Socks
Horton Hears a Who!
What was I Scared of?
One Fish Two Fish Red Fish Blue Fish
The Big Brag
Yertle the Turtle
The FOOT Book
The Lorax
Hunches in Bunches
I Can Read With My Eyes Shut!
If I Ran the Zoo
McElligot's Pool
Oh Say Can You Say?
Oh, the Thinks You Can Think!
The 500 Hats of Bartholomew Cubbins
The Bippolo Seed and Other Lost Stories
Did I Ever Tell You How Lucky You Are?
The Shape of Me and Other Stuff
There's a Wocket in My Pocket!
You're Only Old Once
Happy Birthday to You!
Horton Hatches the Egg
If I Ran the Circus
Marvin K. Mooney Will You Please Go Now!
Mr. Brown Can Moo! Can You?
Oh, the Places You'll Go!
The Sneetches
Thidwick the Big-Hearted Moose
Dr. Seuss Senders – 100 fantabulous cheer-ups and quotes to share!
"We're delighted to tip our hats to Dr. Seuss and say 'Happy Birthday' with a huge app sale," said Michel Kripalani, president of Oceanhouse Media. "Dr. Seuss fans look forward to this time of year as a great opportunity to expand their Dr. Seuss digital library. Plus, now all iOS versions of our Dr. Seuss book apps include a fantastic record and share feature that lets you be the narrator of your favorite Dr. Seuss story and then share your reading with friends and loved ones."
The Dr. Seuss digital book apps feature three reading options and simple navigation tools allowing even the youngest of readers to enjoy the story all at their fingertips. Words and illustrations are enhanced with professional narration, custom sound effects, synchronized word highlighting and picture/word association. In addition, iOS versions include a record and share feature, a page selector, the ability to turn individual learning features on or off, and a link to the Dr. Seuss Bookshelf app on the main menu.
The National Education Association's Read Across America is an annual reading program that stresses the importance of reading to a child. The celebration occurs each year on March 2, the birthday of beloved children's author Dr. Seuss.
Signature of Dr. Seuss (Photo credit: Wikipedia)
About Dr. Seuss: Theodor "Seuss" Geisel is quite simply the most beloved children's book author of all time. Winner of the Pulitzer Prize in 1984, an Academy Award, three Emmy Awards, three Grammy Awards, and three Caldecott Honors, Geisel wrote and illustrated 44 books for children. Hundreds of millions of copies have found their way into homes and hearts around the world. While Theodor Geisel died on September 24, 1991, Dr. Seuss lives on, inspiring generations of children of all ages to explore the joys of reading. For more information about Dr. Seuss and his works, visit Seussville.com. The primary focus of Dr. Seuss Enterprises, L.P. is to protect the integrity of the Dr. Seuss books while expanding beyond books into ancillary areas. This effort is a strategic part of the overall mission to nurture and safeguard the relationship consumers have with Dr. Seuss characters. Theodor Seuss Geisel (Dr. Seuss) said he never wanted to license his characters to anyone who would "round out the edges."
______________________
This is an article written by a member of the SheKnows Community. The SheKnows editorial team has not edited, vetted or endorsed the content of this post.
Want to join our amazing community and share your own story? Sign up here.