Would have as many seams.
Two of my close friends from college are expecting their first baby.  I learned to knit when my brother and sister-in-law were expecting their first child.  My mom told my sister and I that aunts needed to knit or crochet things for their nieces and nephews.  That sounded completely insane to me, and I didn't know that I knew anyone who did either, but my sister was knitting the baby a blanket, and I'm nothing if not competitive. Since I learned to knit for that first blanket, I've tried to bring something handknit to all of the baby showers I've attended, including a blanket for this baby-to-be's older cousin. So I knew that I needed to find a really great blanket.
The parents-to-be are big Duke fans, just like me, so I thought our school colors (blue and white) would be perfect even though they're having a little girl (I'm not particularly into gendered colors).  Mom is a lawyer who loves literature and classically pretty things, so I wanted to find something kind of romantic and beautiful.  Dad is an engineer who likes math and clever things, so I wanted to find something interesting.
C'mon.  How perfect is that?
It's so pretty and looks so complicated, but it's made out of two shapes -- a square and a parallelogram.    It's Duke blue and white, but still very feminine and classic.  And the 
pattern
 is based on Sir Roger Penrose's aperiodic tiling, so Oxford-level mathy.  I love this blanket so much.  If I didn't love these people, I would keep it.
It was really fun to work on, too.  Look at the crazy joining!
(Color is off in that first picture.)
I joined each piece to the rest of the blanket as I went along and weaved in the ends at the same time.  I think this was necessary for my sanity.  I actually like seaming and end-weaving (I'm weird), but we're talking about a lot of seams here.  I was shooting for something "baby blanket"-sized (about 38" across), but it actually grew a lot when I blocked it.  The final version is about 48" across, so it will be even more useful.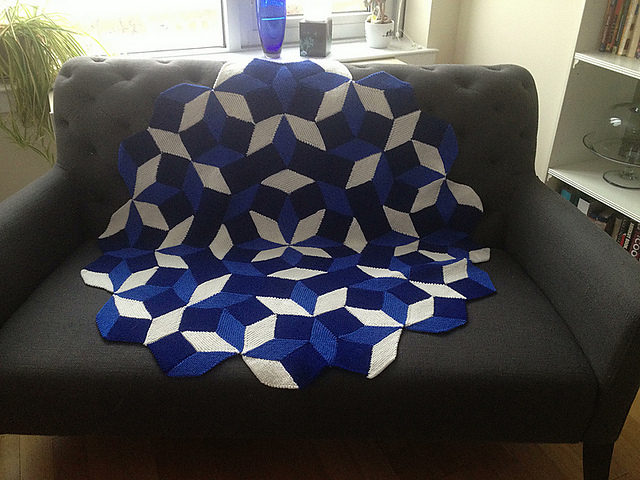 I couldn't be happier with it and I hope it makes the new little girl and her parents happy too.
This is an article written by a member of the SheKnows Community. The SheKnows editorial team has not edited, vetted or endorsed the content of this post.
Want to join our amazing community and share your own story? Sign up here.