PDF Paper Dolls for Inexpensive Fun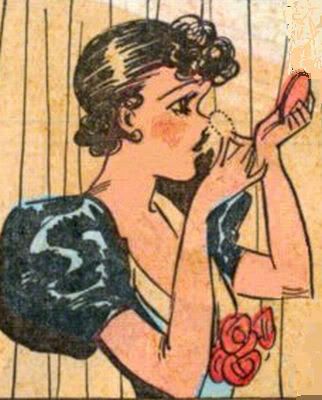 Tillie the Toiler is a paper doll from the 1930s.
To print out your free PDF, click here and scroll down.
A ream of paper is a ream of possibilities. Endless possibilities, in fact, of dreams come true. Coupled with color, scissors and paste, the world opens up to a reality limited only by the imagination of the fingers holding the colored pencils. An inexpensive and simple pleasure, I mourn the fact many children today have not experienced paper dolls and the constructive play they bring. Paper dolls were a life saver in my childhood. Anything I wanted, I could make it out of paper and pretend it belonged to me or one of my paper dolls. I wish that more people would think of paper dolls as a magic carpet rather than the electronics and video stimulation more commonly accessible to little ones.
If you agree and love paper dolls like I do, then let me share with you that I have lots! And, I have decided to offer them on my web site, in a "new and improved" manner. I have taken old fashioned paper dolls I have in my collection and have revamped them for modern tastes and technology. My favorite doll of all time is Dolly Dingle and I have lots of the pages from her career of being published in women's magazines. I have a bunch of paper dolls already up on my web site, but watch for my favorites, the Dolly Dingles in the days and weeks to come. Go to www.SunbonnetSmart.com so you can print out paper dolls for your little people, or even for yourself. I do! :)
This is an article written by one of the incredible members of the SheKnows Community. The SheKnows editorial team has not edited, vetted or endorsed the content of this post.
Want to join our amazing community and share your own story? Sign up here.