This article was written by a member of the SheKnows Community. It has not been edited, vetted or reviewed by our editorial staff, and any opinions expressed herein are the writer's own.
I can't believe it's been almost a year since I welcomed my sweet little man into our world.  Almost one year since my homebirth dream became a reality.  Almost one year since I undertook one of the messiest experiences of my entire life which is one of the most beautiful memories in my entire life.
There is nothing neat or tidy about giving birth.  No matter what choices (and every woman deserves to have the choice) you make or how your baby comes into the world, it's messy.  But it wasn't until my third birth, my first homebirth, that the messiness was evident.
When you're in a hospital, you don't worry about the mess.  You don't notice it.  The staff is really good at cleaning up the messes before you even know they're there.  Plus you're so focused on the task at hand you don't really care what kind of mess you're making.
A homebirth is a little different.  There are fewer people to clean up after you. It's your house, your mess and so you pay more attention.  I had two great midwives that cleaned up everything when it was all done, but I definitely was more aware of the mess during, and especially after when looking at the pictures.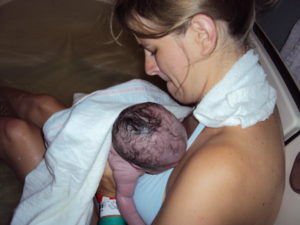 I've noticed that a lot of waterbirth pictures are shown in black and white and when posting mine originally, I changed them to a sepia tone in order to mask the messiness.  My waterbirth at home was messier than most seem to be and it was definitely messier than my hospital waterbirth with Sugarplum (pictured at right).
The water after Doodle's arrival was brown, murky, bloody…messy.  When I moved from the bathtub to the bed for a check over, blood ran down my legs.  I left a trail of bloody footprints along my path.
Doodle had not been crying heartily and was not a robust pink color.  It took a few puffs of air to get him going and while I had immediately placed Sugarplum and Honeybun to my breast, with Doodle I didn't think about it.  I was so excited to share him with my girls and the midwives were so eager to move me to the bed I didn't get to feed him right away.
My uterus wasn't contracting as it should have been, resulting in what I believe was probably excessive bleeding.  My midwife wanted to do a Pitocin injection but I asked for an alternative so instead I was given a dose of Shepherd's Purse to stimulate my uterus to contract.  I never even thought to ask to try nursing Doodle, who was getting to know his daddy, sisters and grandparents in the other room.
I also had a perineal tear (an almost 9 pound baby who exits in just a few pushes will do that to you!) that had to be repaired and it was over an hour after his arrival that I got Doodle back and was able to feed him.
But despite all the stress, struggle and what I now see might have been something out of the ordinary (no one ever showed concern at the time), it was still the most beautiful experience of my life.  The births of my daughters were beautiful in their own way, but birthing my son in my own bathtub with my husband, daughters and parents looking on was truly a remarkable experience.
This is what birth is.  This is why women choose homebirth.  This is why I chose homebirth.  This is MY Messy Beautiful (in full color):
 This post was originally on Beyond Mommying as part of  the Messy, Beautiful Warrior Project.