When I first started homeschooling, I thought that it wasn't school unless it looked like school, felt like school and sounded like school. I sat the littles down (only four and two at the time) and pointed to the white board where we drew letters and pictures, said our Pledge of Allegiance and I marked my teacher assignment planner with attendance, checking off each hand-written preschool lesson. I even gave the kids a sticker for a well-done day and set up little school desks for them. We were by all appearances "doing school."
At first, it was fun and new for them, and Mom felt comfortable in her "in the box" public-educated roots ... passing on the legacy of a schoolroom education to her wee tots. It wasn't until the wonder of "doing school" wore off that the kids began to buck the system, and Mom began to burn out. The teacher lesson books all had to be weeded out because they were written for classrooms. The busy seat-work exhausted the kids before we could get to the real fun of projects, activities, dress-up play and reading aloud. [Fun is the key word there ... and I'm convinced that it is linked to your memory!]
Of all the workbooks and assignments we did in that early first year, we have no memories besides those of tears and whines to get up from the table. What we all remember well is the cuddling on the couch part -- reading children's books, taking field trips to libraries, parks, and the zoo and playing with our homeschool friends.
A wise woman at my church who had homeschooled teens came over for lunch one day to share some of her past experience with homeschooling over a slice of dill bread. She brought me a big book called KONOS that was full of unit studies on different topics and time periods. She urged me to stop the seat-work -- or at least cut it VERY short -- and dive into the fun learning activities in the book. I joined a KONOS email list online and met over a thousand other homeschool moms that were really enjoying learning alongside their kids and making the most amazing memories with them (the kind of learning that was going to really stick).
Towards the end of the school year, after gleaning a lot of great information on the e-loop, I connected with a lady named Kelly who lived about 40 minutes from me. Our kids were not far apart in age, and she was interested in doing the American Indian unit with me -- she had been doing KONOS a bit longer with success, and I needed some hand-holding.
That first full unit we did together as a "co-op" (i.e.: a group, albeit small with just two families) changed my whole idea of education. I suddenly emerged from the "box" and starting thinking outside of it for the first time.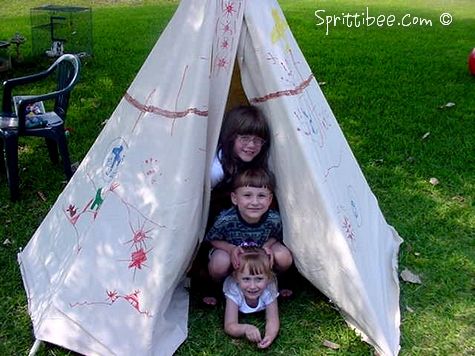 I asked my tweens what they remember of that fun end-of-first-homeschool-year. Mind you, they are now 13 and 11 ... and they were only five and three when we did that unit. Still, here's what they said:
Doing a rain dance with fake snakes in our mouth
Going canoeing down a river
Eating beef jerky and making pemmican
Making maple-sugar candy and reading Little Runner of the Longhouse
Making a Native American regional tribe map
Reading books and giving an oral report on Northwest Coast and Iroquois Indians
Building a totem pole out of appliance boxes and painting it
Making a face mask
Visiting an Indian gift store
Painting our own Navaho rugs with designs
Making turtle shell rattles
Eating buffalo meat
Dressing like Indians and having an Indian Feast and Artifact Display party
Shooting bows and arrows
Decorating a teepee built of PVC and tarp
Of course, we did more than these things, but they are the ones that stood out to the kids. Notice that only ONE of those things involves any kind of academic "sit down" work: reading. I realized those days that the kids could learn far more -- and remember far more -- that I thought possible for such little ones. The fact that they were so little and still remember so much of those early days is astounding. I can attest that I don't remember anything about daycare that I was taught (besides catching tadpoles in the yard, hide and seek in the play house loft, and the little boy who always drew on his sleeping mat at nap time ... and none of those things are academic, either).
So began our thrilling journey of homeschooling -- and my new adventure in using play (actively engaging the children's senses in learning) as my new tool to teach. We had many years of fun -- even with all our other distractions and pitfalls (we moved a lot, struggled financially, and our home flooded three times). Despite life's chaos, we learned. Even better than that, we bonded together, and I became more than a mom or teacher -- something better: a mentor and friend to my kids (the one they ran to when they were so excited and had to tell someone FIRST).
I wouldn't trade any amount of money in the world for the elementary years of homeschooling my kids. Even with all the missed luxuries and struggles, we have had to stay financially afloat. Good thing I love homeschooling, too, since we added another 20 years or so that we'll be doing it. When my kids were 12 and 10, we had our youngest boy, and we're on our way to having number four by next February. My big set will be 14 and 12 when their newest sibling gets here!
Here we go again! We like to joke that by the time we're done homeschooling, we'll be moving in to the nursing home and eating with dentures. It's all good. As long as the nursing home will let me continue to read picture books and play with my grandkids, I'll be right as rain.
I guess some of us just never grow up. Maybe that's the sum of homeschooling younger kids in a nutshell: remembering the wonder of being a child and the beauty of the human imagination.
There will be time for drilling grammar and learning the theories of physics later. For those elementary years, our family focuses on the POWER of PLAY.
Heather, aka Sprittibee, is a: Christian wife, homeschool mom, photo nut, native Texan, and blog enthusiast. Her ancient blog: Sprittibee.com has been trapping google-searchers for the past five years. Come enjoy the buzz! You can also find Sprittibee writing at The Homeschool Post (community homeschool site that hosts the annual Homeschool Blog Awards in the fall each year), Gathering Manna (her neglected recipe site), Heart of the Matter (she is a part-time author and conference speaker for their Online Magazine), Complete Organizing Solutions and curating amazing content for Blissreads.com.
This is an article written by a member of the SheKnows Community. The SheKnows editorial team has not edited, vetted or endorsed the content of this post.
Want to join our amazing community and share your own story? Sign up here.