Yesterday was my brother's birthday. I did not send him a gift or a card. I didn't have time to call him. I didn't even have time to surf around for an e-card. I sent him this text message.
Happy Birthday etc...
Are you celebrating w/ Geritol cocktail?
I'm sure he appreciated the text message, very much.
At the moment of texting, a moment of Mother's Day dread set in. I do not have a gift for my mother. It is incredibly unlikely that the perfect Mother's Day gift is going to land in my lap between now and the time I'd need to ship it. I really hate doing the flowers and chocolate thing and I somehow think a text message isn't going to cut it either.
I shrugged off the dread and got back to work. I'd think about this later, I had a BlogHers Act post to work on.
Her Bad Mother sent me a link to the story about an "untouchable woman" who died one day after giving birth outside of a hospital where she was refused treatment.
In Jamaica, family health doctors call for more funding to ease maternal health risks.
Mobile Health Clinics in Tanzania were announced in an effort to "stop needless maternal, newborn and child deaths during and after birth."
From Mothers Acting Up
Two-and-a-half-day's worth of military spending could save the lives of 6 million mothers, newborn and children!!
From The Daily Observer in Gambia
The Reproductive and Child Health Programme Unit of the Department of State for Health and Social Welfare on Monday, began a community sensitisation on male involvement in safe motherhood in Boraba and Cha-Kunda in the Upper Fulladu District, Central River Region.
There are so many of these stories and so many people who need help, where do you start?
I can offer you a way to start. You can make a donation to one of these BlogHers Act Global Giving projects.
* Mother and Child Clinic in Nepal: $10 - 2 days' operating costs for the Clinic OR a year's worth of care for 5 women and children

* Help Afghan Women Deliver Healthy Babies Safely: $25 - 20 women will have improved quality of life through reproductive healthcare and education

* Ensure Healthcare for 40,000+ Displaced Darfurians: $25 - Trains 2 Traditional Birthing Attendants (includes 3 training sessions and training materials)

* Empower Women to End HIV/AIDS Stigma, South Africa: $50 - 2 women living with HIV/AIDS can receive counseling

* Noon Meal Improves Girls' Learning in Burkina Faso: $15 - Provides a noon meal for 50 students for one day.

Now back to my Mother's Day dread.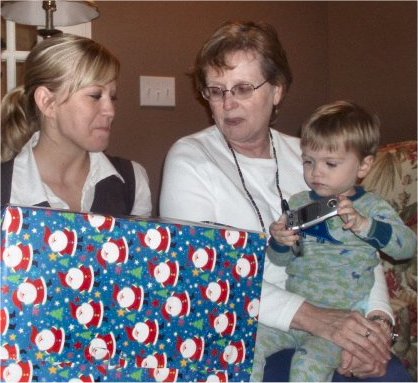 My mom is awesome, she's always been awesome. I'm a feminist, because my mom raised me to be one. I care about women in Africa who have HIV/AIDS because my mother raised me to care. I wouldn't be here, at BlogHer, if my mother hadn't raised me to care about community. This photo, it's my mom with her oldest granddaughter (my daughter) and her youngest grandson (my nephew) and she deserves a really excellent Mother's Day gift.
Thanks to Elisa's email yesterday, reminding me of GlobalGiving's "gift card" option, she's going to have a gift that's worthy of her.
I'm going to donate money that will train a woman to be a healthcare worker in Afghanistan as a gift to my mom. I cannot think of a better gift to her this Mother's Day - a Mother's Day when my sister is in her seventh month of pregnancy and maternal health is something we're all really focused on right now.
To make your donation a gift to your mom or to make a donation on behalf of someone else, simply check the box next to the words "Make this donation in honor of someone or send as a gift?"
Will you join me and give the gift of maternal health to your mom for Mother's Day?
(Mom, if you're lurking - act surprised when you get your gift, ok?)
~~Denise
Flamingo House Happenings
This is an article written by a member of the SheKnows Community. The SheKnows editorial team has not edited, vetted or endorsed the content of this post.
Want to join our amazing community and share your own story? Sign up here.