The food processor was whirring a mixture of roasted onions, garlic, tomatillos and jalapenos around like a tornado. My eldest and I were chatting; I while looking down at the appliance buttons, and she while sitting on the kitchen counter. She had asked me a question, and I looked up to respond, making eye contact. But words never left my lips because she immediately quipped,
"Oh, mams...you've got a bat in the cave."
"What? A..what? What does that mean?" I'm looking around, thinking there is something in the kitchen that lent itself to a bat/cave metaphor.
"Your nose, mams.  There's a dry booger in there fluttering around.  Get it!"
Oh.  I could feel the flushing creep up my neck immediately.  It was me! And, the bat was a booger that was clearly visible, fluttering in the wind rushing from my lungs and out my nose. Wow.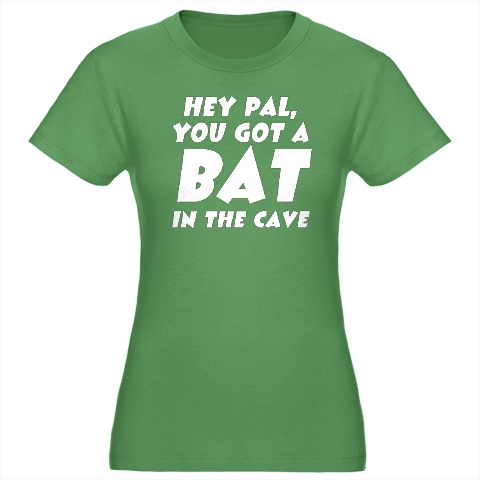 That night I looked up the trusty Urban Dictionary and found that the term was probably made permanent into pop culture by an episode of "Sex in the City."
"Hey, buddy, you have a bat in the cave. Need a Kleenex?"
I'm guessing it was Samantha's character, but I have no idea.  Flash forward a few months later.  Hubby and I get a phone call.
"Hey, are you guys coming down to Norman to drop off that piece of furniture?  If you want, we're going to McNellie's tonight and playing scrabble at the bar.  You've never been with us, wanna come?"
She was right.  Her father and I had never been out drinking with our daughter and her new husband.  McNellie's is a quintessential pubbers pub.  It's friendly, big, wood panneling everywhere, and a great majority of the students at the University of Oklahoma make it there at least once during their time as a student.
Okay, we were going to go.  Thing was, "Scrabble" included "words in the Urban Dictionary."  There it was again...the Urban Dictionary looming in the front of my psyche. 
Oh, the information we learned that night.  Hubby thought it was all kinds of funny.  I vascilated between laughing until my face was red and feeling horrified, so my face was probably red at that end of the spectrum as well. I still remember getting high-fived when I actually played the word, "boregasm."
The moments when the curtains of family rules drop to the floor and the re-adjusting to the new view of the now clear-paned window between the adolescents you once had...and the young adults you now have are funky.
I like them. But they're funky.
Find me at the Red Dirt Chronicles...
Best, Red Dirt Kelly
This is an article written by a member of the SheKnows Community. The SheKnows editorial team has not edited, vetted or endorsed the content of this post.
Want to join our amazing community and share your own story? Sign up here.