This article was written by a member of the SheKnows Community. It has not been edited, vetted or reviewed by our editorial staff, and any opinions expressed herein are the writer's own.
..the ones (three of them) who turned down our extensive application because they saw us as unfit to care for animals. The ones that saw the number of kids in our family, and their ages and turned us down flat out. The ones who have cats, some lined up in cages, who are waiting for homes who want to care for them and still didn't want to consider that a cat or two could actually be happy here. This is especially to the woman who said We just had nine kittens arrive today, but....(longest pause in the world) I think you should call another place. We can't help you: I'd like to introduce you to our babies, Lilly and Selam.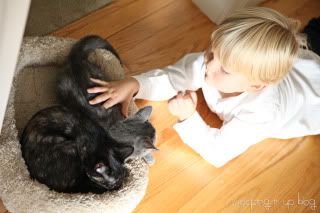 Two, four-month-old kittens. All six children in this house love them. The six children that likely were the root cause of you rejecting our application. These kiddos have learned to go slow, be gentle, show love, and give space and all sorts of other amazing, beautiful things from these sweet girls. And after a few short weeks here they are coming out of their shells. Well, Lilly didn't really have a shell. Selam in particular has been in a sort of Kitty Attachment Therapy to help reduce her fear of the fast-moving little people.
Here they are in a safe, small quiet space where our kids have been assigned "visiting hours" to go in alone, one at a time, and hang out with them and let the kitties get to know them. This sequestering has really helped. And no, the youngest two don't go in unsupervised. Look, we can be thoughtful, intentional and keep everyone safe. Imagine.
But now, they both purr when they are held. They are coming when they are called. They crawl under covers with all of us. They are enjoying the petting. After some hard work and amazing restraint shown by the children, Lilly and Selam are seeing that everyone here wants to be their friend. No, the don't love the youngest, who's learning curve is slower, but they are smart kitties. They stick around for a pat on the head and then find a safe spot when he comes crawling after them. They are happy. They are loved. We all adore them.
After weeks, no months of searching, we found two little girls who needed a family to care for them,  no thanks to you, Cat Shelter People. The experience the children are having learning to care for them and respect them is just what we envisioned.
We brought home Lilly first, alone, without her sister. When we met the kittens, Selam, then nameless, was skittish. We did not feel our home was a good match for her, at first. We didn't want her to be traumatized by the craziness. It was clear from the beginning Lilly was down with the big crew. It's amazing after just two minutes with a group of kitties their personalities shine through.  We worked for two weeks to find Lilly a buddy. We wanted her to not be a solo cat. But rejection after rejection from local shelters and some encouraging texts from the woman fostering her made us rethink. We drove back to visit Selam who was still shy but we thought Let's see how she does. Maybe she will be OK. We decided if she was miserable after a few days we would work with the foster kitty mom to find her a better, quieter home.
The moment we let Selam out of the cat carrier the two kittens started to hug. Lilly spent the whole night showing Selam around the house and playing. The sisters were so happy to be back together. Looking back I can't believe we almost separated them.
I am grateful to the blog reader who read my Kitty Rejection woes, reached out and helped point us  to the kittens. Thanks to my friend L who tried to help us adopt a kitten (or two or three) and was rejected herself by local shelters.  Apparently cat shelters in New England have plenty of people lined up to rescue cats and kittens so they can be very choosy. It's a little baffling how two women, mothers, with smart, capable children and loving families who managed to complete loads of paperwork and undergo scrutiny from the FBI, and foreign governments and social workers to adopt children internationally, couldn't make it past a phone interview for a cat. It's worth noting Shelter Folks: your adoption standards in this neck o' the woods are high. 
But everything happens for a reason.  Maybe, Cat Shelter Folks, if you saw this, in the future you would give people like us a chance. And allow families like ours to adopt cats into good homes.  Afterall, I don't blame you for having doubts. But you had the info, and you wouldn't even call our three non-relative references to find out anything about us beyond what you saw on paper. I think you missed out getting to know how great we are with cats.
Your friend, Mom to six lovely humans and two awesome, happy cats 
 Come self-medicate with me at www.scoopingitup.blogspot.com