This article was written by a member of the SheKnows Community. It has not been edited, vetted or reviewed by our editorial staff, and any opinions expressed herein are the writer's own.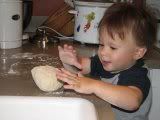 Katie from the Chicago food blog Little Spatula just spent a perfect day with son Gabe.
She writes: "Today was one of those days that you can only wish to relive again. ... Gabe awoke in his crib ... then joined me in bed where we played and tickled ... we set up the tee for T-ball ... we lounged around on the front porch smelling flowers and climbing up and down the steps ... and then ... we made fresh tortillas together." ~ To see just how much little Gabe loves making (and eating!) homemade tortillas, plus the recipe, visit Homemade Tortillas.
Have you blogged about cooking with kids? Leave a link to your post in a comment!
On Sunday, BlogHer food editor Alanna Kellogg has a date with a seven-year old to cook the eggplant she's been tending since spring and finally took to Show 'n' Tell on Friday. Ratatouille, perhaps? Or something simple from these eggplant recipes?