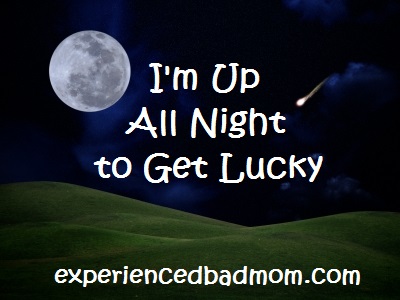 Have you heard Daft Punk's "Get Lucky" on the radio this summer? It's a big hit that features a vocalist singing "I'm up all night to get lucky" over and over.
On Friday night, "Get Lucky" was playing in the restaurant in which my family was eating.
"Why is this guy always singing about getting lucky?" my six-year-old declares.
My husband and I freeze. Our forkfuls of food are suspended mid-air on the way to our mouths.
Stay cool, I think.
"And why is he always singing about getting lucky AT NIGHT?" she wonders aloud.
I. can't. look. at. my. husband. We are on the verge of losing it.
"I mean," continues our sweet, innocent six-year-old, "nobody's going to get lucky at night unless you see a shooting star or something."
EXACTLY! 100% TRUE!
Image courtesy of  Exsodus / FreeDigitalPhotos.net
This is an article written by one of the incredible members of the SheKnows Community. The SheKnows editorial team has not edited, vetted or endorsed the content of this post.
Want to join our amazing community and share your own story? Sign up here.