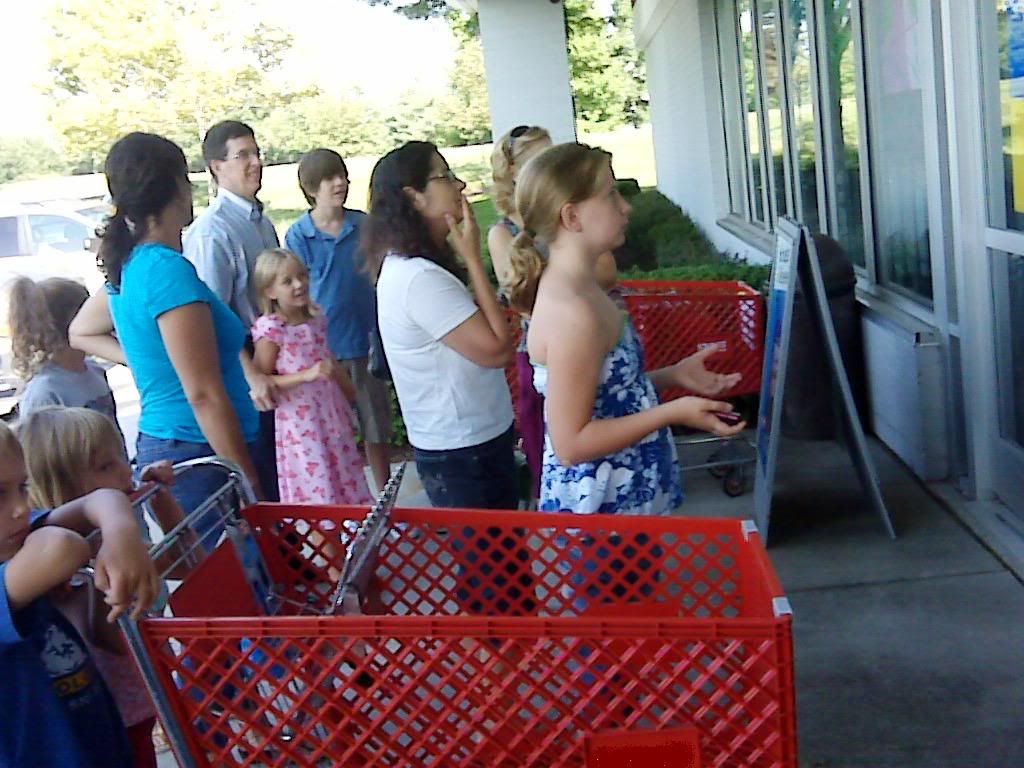 This is what I dealt with Sunday morning. I wish I could say that I was one of the organized back to school shoppers, but like these people standing in line waiting for the store to open at 10 a.m., I am not at all organized. I am the definition of a last minute shopper. Go ahead, google "last minute shopper", I'm sure there will be a photo of me there. I absolutely love the end of summer, and having my son back in school, but I hate the shopping aspect of it. First, there's the dreaded school supply list. I remember when I was in school, all we needed was a pack of pencils and a notebook. Nowadays, instead of looking as if you're shopping for school products, it's as though you're shopping for things to furnish a new office. So after I've gotten all of the office school supplies, I'm thinking to myself, where exactly is all of this stuff going to be stored, in a small school desk?
I guess I should also let everyone know that I live directly across the street from a mall. I remember when I first moved to my town, it was definitely a selling point for me. The mall has everything. Restaurants, a movie theater, and just about every store you can imagine. Sure, my first couple of months of living there, I spent a lot of my free time at the mall, but now 7 years later, you couldn't pay me to go there and back to school shopping is definitely one of those times, that I dread going to the mall.
Thank god for the internet!
Who needs a mall, when I can buy all of my son's clothes online! I'm not the impatient type and neither is he, so waiting for something to arrive in the mail is actually like Christmas in the Summer. What I find to be an added benefit is that, nowadays, most of the stores online, have in-store returns. How's that for convenience? You don't have to deal with long check out lines, people with their unruly kids running around the store or having to wait in line for a fitting room. But this could all be alleviated, if my county implemented a school uniform policy. I can dream right?
Sunday, I managed to finish my back to school shopping in under 3 hours. Who knew it would take 3 stores just to find composition notebooks, I didn't realize that they're still such a hot commoodity. Also, I'm convinced that people lose all common sense once they enter a certain office supply store. I literally saw people running up and down the aisles, as if they were in one of those old commercials singing, "it's the most wonderful time of the year"! Yes, I have to agree that the first day of school, is a great time of the year, but the last minute shopping that leads up to it, is for the dogs. Maybe next year, I'll try to get an early start on it, but then again, I doubt it, because I remember saying the same thing last year!
This is an article written by one of the incredible members of the SheKnows Community. The SheKnows editorial team has not edited, vetted or endorsed the content of this post.
Want to join our amazing community and share your own story? Sign up here.