Homeschooling Workstations: My Favorite Part of the Day
     One of my favorite things to do is set up workstations for my kids.  We just call them "stations" and my kids really look forward to days when we do them as well.  Over the next few weeks, I'd like to share my favorite stations.  Maybe you will find a way to incorporate them into your school day as well.  Stations are designed to encourage independent learning, creativity, and build certain skills you want your child to continue to improve on.    
     I have three kids in school, so I set up three stations in different places (usually all in the kitchen, but not right next to each other.  This keeps us in the same room, but allows each child to explore each station on their own without a sibling pestering them or telling them what to do.  Each child gets a set amount of time at their station and when the timer goes off, they switch.  When everyone has completed all the stations, we are done.  Usually I set the timer for somewhere between 5 and 10 minutes, though I have been known to go longer if the activities are more involved.  
     Since my kids are all different learning levels, I set each station up with different difficulty levels depending on who is using it at the time.  I will explain this in more detail with each activity, but for now, suffice it to say that I don't have my preschooler and my second grader doing the same thing at the same station.  This can seem challenging at first, but it's not too hard to adjust an activity a little bit so that it is easier or harder.  
     This week, we are using sorting mats with Lego pieces, Melissa and Doug tangram animals, and color sorting counters.  I give the kids 5 minutes at each station, so overall, it takes no longer than 30 minutes to set up, give instructions, and then have each child work through all three stations.  I only use activities the kids have done before, so they don't need my help in the middle of the time.  In fact, part of the point of the activity is to listen well and follow the directions accurately.  I introduce new activities during "regular" school time and when they know how to do that activity, I add it to the stations line-up.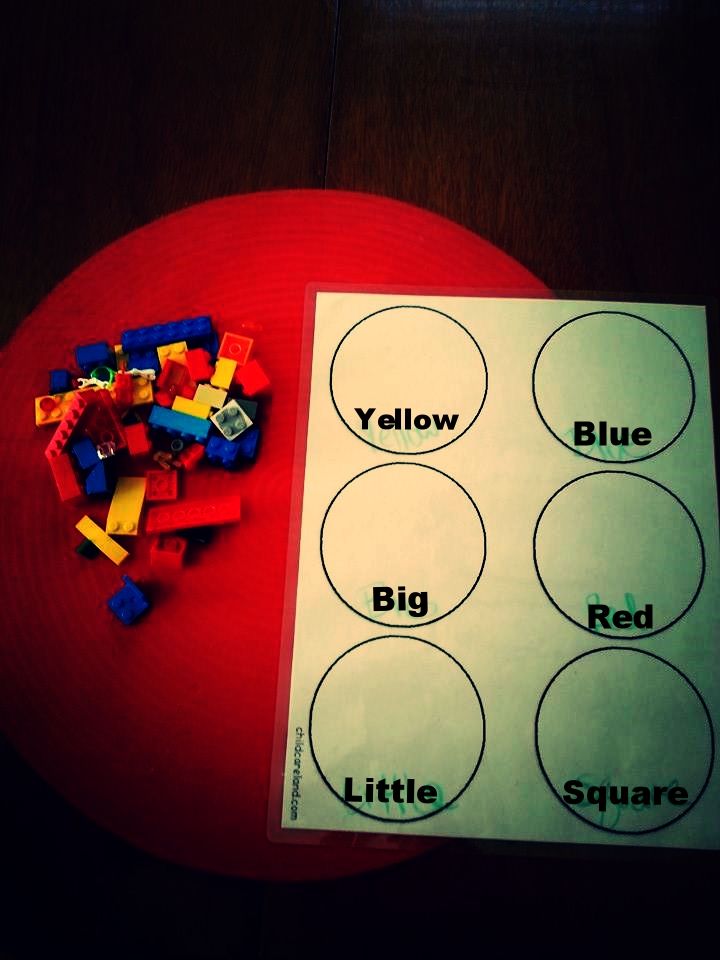 1. Sorting Mats: I use these laminated mats for sorting activities.  You can write any attribute on the circle with a white board marker and wipe it off when you are done.  For my preschooler, I give her one or two circles with categories she knows: colors, big, or small are often used.  I read them to her and put an example piece in each circle for her.  For my kindergartener, I have him read the circle attributes and use words I know he can figure out: big, small, colors, and numbers are frequently used for him.  For my second grader, I use harder words and sometimes more pieces: rectangular, round, has a hole, tiny, huge, etc.  This week we used Lego bricks, but I have been known to use snack food, other small toys, plastic counters, game pieces, or anything small that is sort-able.  If I use food, I let them each eat their stack when they are done.  It definitely adds to the fun.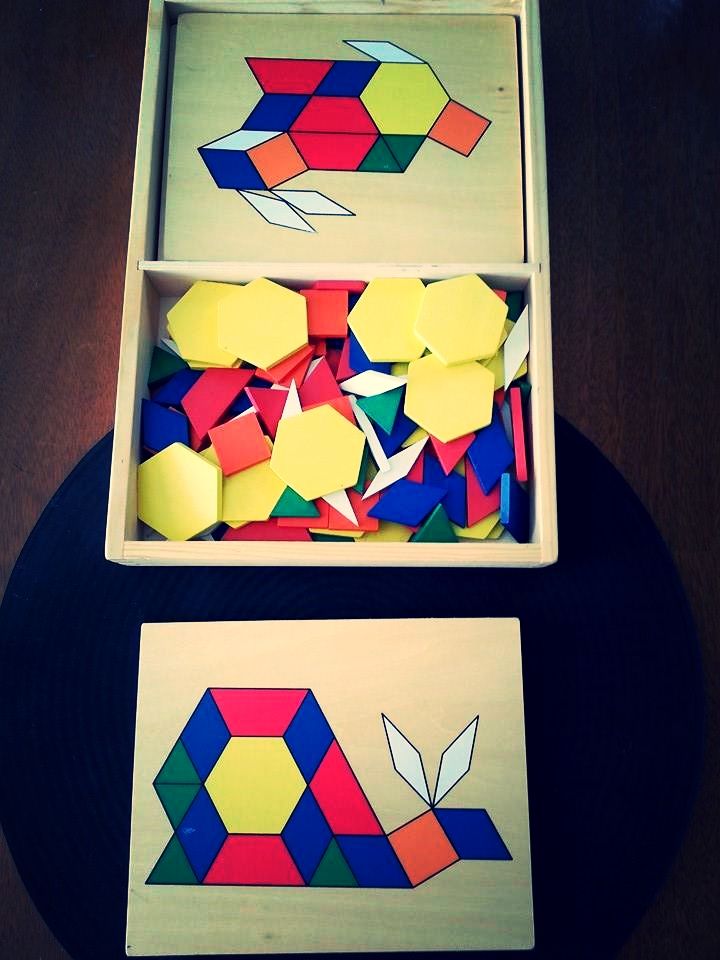 2. Melissa and Doug Tangram Animals: I don't know that these need an explanation.  I usually remind my kids that I want to see at least one (or two, depending on age) completed boards when the timer goes off.  This reminds them to really focus for five minutes and not mess around.
     3. Color Sorting Counters: I use these similarly to the sorting mats.  There are cups that color coordinate to our cat counters.  The older kids have to use the giant tweezers to pick them up, and my preschooler has the option to use her fingers but I try to encourage her to try the giant tweezers.  My second grader does this, and then I have him dump them and start again until the timer is up.  I love having him work on his manual dexterity, even though he has known his colors for a long time. 
     There you have it!  Next week, I will give you three more activities that we use for stations in our home school.  There are so many wonderful options, and I love setting up a very structured learning time in the middle of the afternoon if we hit a crazy wall where everyone just needs a break from each other.  Hey, it happens.  Stay tuned!
This is an article written by one of the incredible members of the SheKnows Community. The SheKnows editorial team has not edited, vetted or endorsed the content of this post.
Want to join our amazing community and share your own story? Sign up here.