This article was written by a member of the SheKnows Community. It has not been edited, vetted or reviewed by our editorial staff, and any opinions expressed herein are the writer's own.
The second best thing about having a cool physical therapist for my preemie Brady is that she keeps her eye on his older brother Tsega for me. Tsega didn't qualify for Early Intervention when we had him tested, but that doesn't mean he doesn't have areas of development that I check mark in the back of my mind (like with all my kids.) Brady's PT interacts with Tsega each week and has great insight and ideas for me to help him reach his potential.
I've mentioned before that Tsega has above average sensory input needs. Lots of kids do, and many are not developmentally challenged nor adopted. I watched one at church a few weeks ago. A "normal", highly intelligent eight-year-old was attempting to turn her little spot on the pew into a trampoline/bucking bronco for about ten minutes. The whole bench was shaking. At first I wanted to put her into a full body cast because it was distracting and a tad irritating, but then I saw her through more understanding eyes: I saw her as seeking sensory input. She was rocking and bouncing so hard her behind was slamming into the seat.
Being aware of sensory input needs sheds new light on wiggly, obnoxious kids. Because let's face it, what is understandable if not funny and cute behavior in two-year-olds can be difficult to enjoy and deal with in older children. Sometimes children just cannot concentrate or be still if they are seeking physical input. And sometimes they will do anything they can to get it. They have to, even when it gets them in trouble, or other children mock. There are appropriate ways to get input and inappropriate ways. For example, jumping on a trampoline: appropriate. Hitting one's head against a wall over and over: Inappropriate.
**I am not an expert, or especially knowledgeable about SID (Sensory Integration Disorder) nor I am suggesting my kid has that. I am simply sharing and documenting.
Tsega needs movement. He needs input. And so with complete disregard for my freaking out suggestions, lately he has been rocking his dining chair back onto two legs during mealtimes. He puts his feet on the table pushing, releasing, pushing releasing, turning breakfast into a ride at a carnival. It's dangerous and impolite, but he's only eighteen months. It's awfully hard to convince his age bracket of those two facts.
Brady's PT noticed this behavior and suggested I give him something to "feel" that might fill up that physical craving without endangering his life or my sanity. And after all, it's my job as his mother to help him find appropriate ways to get "organized."
So what kind of input can you give a kid while eating that isn't messy?
A wobbly, textury cushion for his booty. Yup, I made up the word textury. You can use it if you want. Kathleen the PT said I should try to make one for him, that it might give him a fun sense of imbalance that he's looking for without tipping his chair back. I was skeptical but thought it was worth a try.
A few nights  ago when my kitchen looked like this:
I decided to ignore the mess and work on Tsega's cushion. I used up the custom hospital gown that I wore when I went on bed rest trying fruitlessly to prevent Brady coming early, but you could use any fabric you want. 
First I took a regular piece of paper and traced the outline of T's booster chair. It is, and always will be disgusting. No matter how many times I clean it.
Then I traced around my outline, to allow for sewing a seam.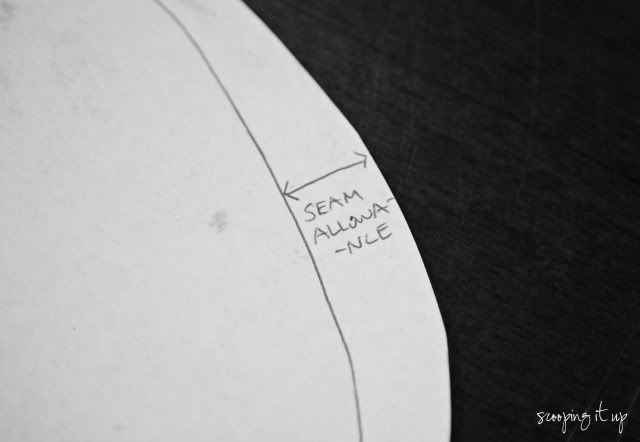 Then I traced the pattern onto the fabric, which I folded over so I could cut out both sides at the same time.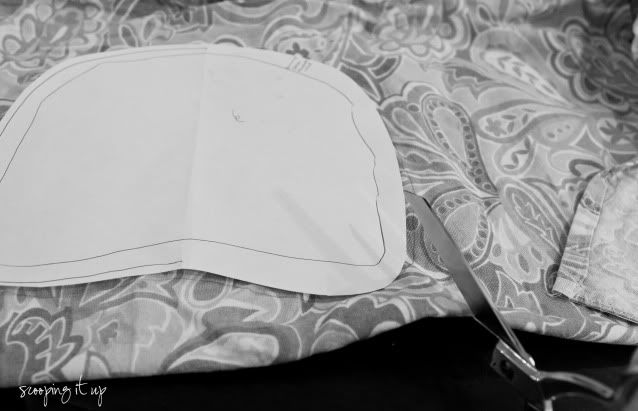 Then I put the two "pretty" sides together, so the ugly sides were showing on both front and back.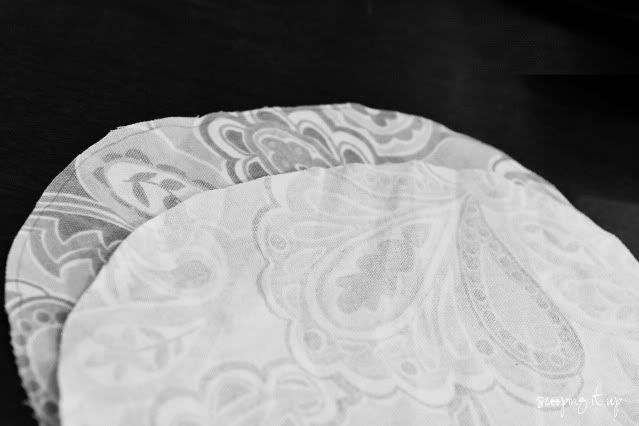 And sewed them together. I started with a straight stitch, and realized I wanted it to be stronger, so then went to zigzag. What these photos fail to show was that this fabric is a lovely blue and light green paisley, but the thread was red. I just used what was in there from the previous project. Lazy, and ugly.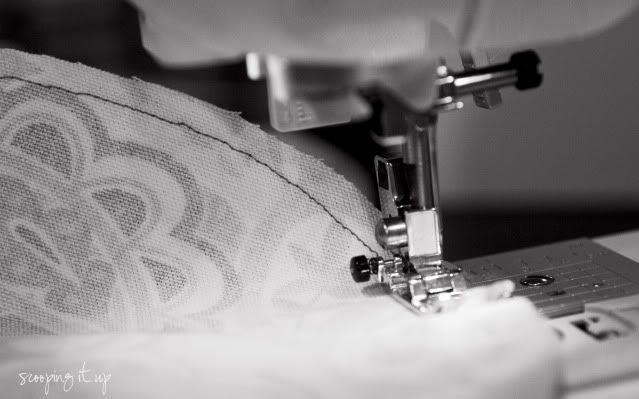 I left about two or three inches not sewn up, and then turned it all right side out.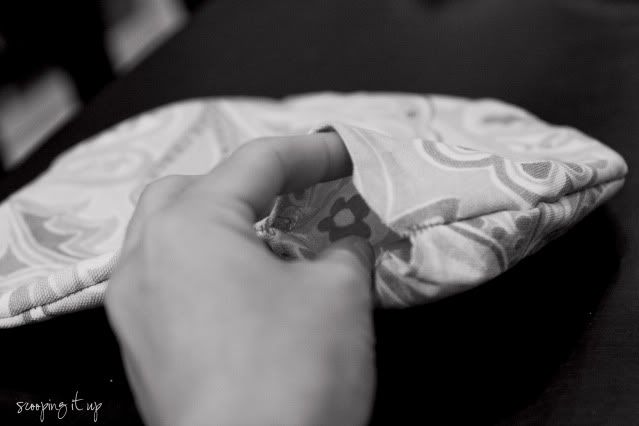 I poured in some of these, along with stuffing in some cotton balls and make-up foamy sponges. I wanted different sized and different hardness items in there. This cushion is not meant to be comfy. It's meant to stimulate his brain. Through his butt. Weird, I know.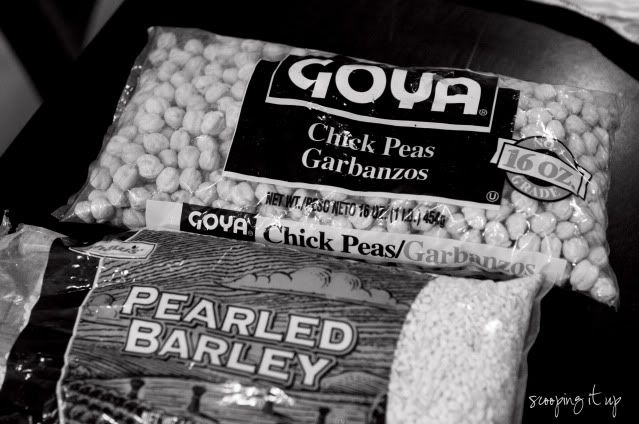 Once I liked the thickness and feel I hand stitched it closed. And threw it in the booster.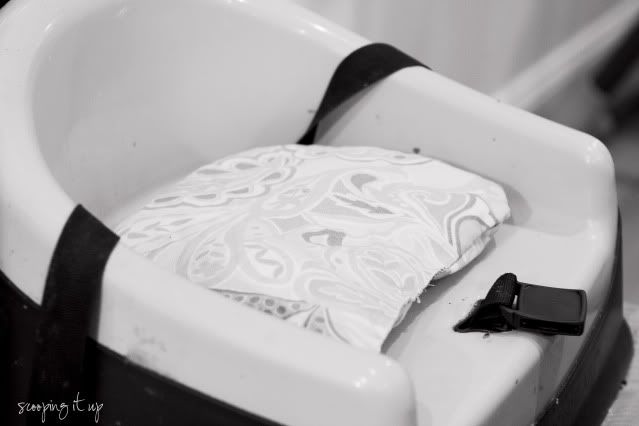 So did it work? I know you're dying to know, right?
Someone hasn't tried tipping his chair back in the four days since we started using it. I am thrilled about the reformed behavior. Because there are beans and barley in this cushion it cannot be washed, so when it gets nasty from the spilled food I will make another; this time with oil cloth or something I can wipe off.
You tell me: Is the Physical Therapist a genius, or is it coincidence?
Come self-medicate with me at www.scoopingitup.blogspot.com