Halloween Fun..not just for kids!
I love Halloween! Actually I love fall and everything that represents. 
My mother was not the type of person to enjoy the seasons and do a lot of activities with us. Unfortunately she never dressed up in any costume, she never allowed us to wear costumes or go trick or treating.  In fact she never celebrated Halloween or any other holiday for that matter. 
So when I became a mother, I vowed to NOT do the same.  Thankfully I have a husband who loves to participate (when he can), and does not mind decorating the house three times a year.
My son is now 6 years old and my daughter will soon be four years old; if you ask them what they love the most? They will reply, "Having fun with mami and papi". 
This Halloween will be one of the best yet!  We have so many things planned and not to mention our big trip to Disney's Magic Kingdom to see the Mickey Mouse Halloween Party and the many other parades Magic Kingdom has to offer.
Our Halloween fun started this past Saturday.  My son attended his karater's "Halloween Break a Board", in which he got to wear his costume and break boards and Ms. Bree got to wear her Cinderella costume!
What are your Halloween traditions??
See Ms. Bree's Cinderella Hairstyle and more at www.caramelcurlz.blogspot.com, come and share your family craziest Halloween photos!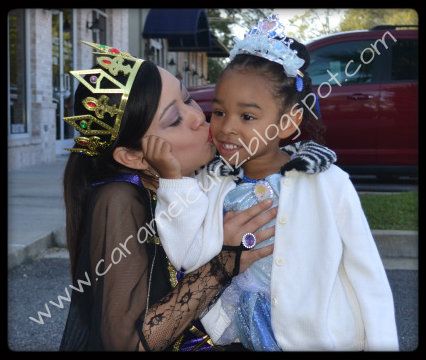 CaramelCurlz & Swirls
This is an article written by one of the incredible members of the SheKnows Community. The SheKnows editorial team has not edited, vetted or endorsed the content of this post.
Want to join our amazing community and share your own story? Sign up here.