Soon, we may be up to six sessions of Early Intervention a week. And though it may sound crazy, it isn't too much. Not even close. These women are angels of mercy in our house. They have been the most solid, constant support for my boys since they came to live here.
Tsega and Brady love their teachers. I might love them even more.
I beg of you, if your kid isn't reaching a milestone. If he struggles with sensory processing. If he isn't speaking yet, anything that makes you wonder if your child is not progressing, call your local Early Intervention office. Yes, it's true most kids will get "there" eventually. But it baffles my mind when people don't want these geniuses in their home.
Did you know that therapists for children are flipping wizards? That they can coax words out of previously silent children? In our case, on the first visit. Did you know they can coax strength from frail limbs in ways you nor I ever would have thought to try? That they see reasons why your kid does or doesn't do something that you are not trained to see? If you are as lucky as we are, they will swoop in and with love and care and teach you how to parent your child better. How to help your child reach his or her potential.
They will stand in as mild therapists for you, too, as you voice concerns and fears for your child. They will stand as witnesses to the marvelous uniqueness and insanity that is your (OK, my) home. They will be there when your 14-month-old throws a blanket over his face and runs like hell into a wall for fun. They will be there when that same child climbs to the top of the bunk bed and jumps off, but catches himself with one arm and then gently lowers himself down a la Cirque du HolyCrap. They will watch that same child at 18 months go grab a 9-inch chefs knife and attempt to make a sandwich.
They will asses that child and find that he qualifies for therapy for sensory seeking behaviors that interfere with tasks, and developmental therapy to help him interact more with adults making eye contact, asking permission, etc. Later speech therapy will kick in.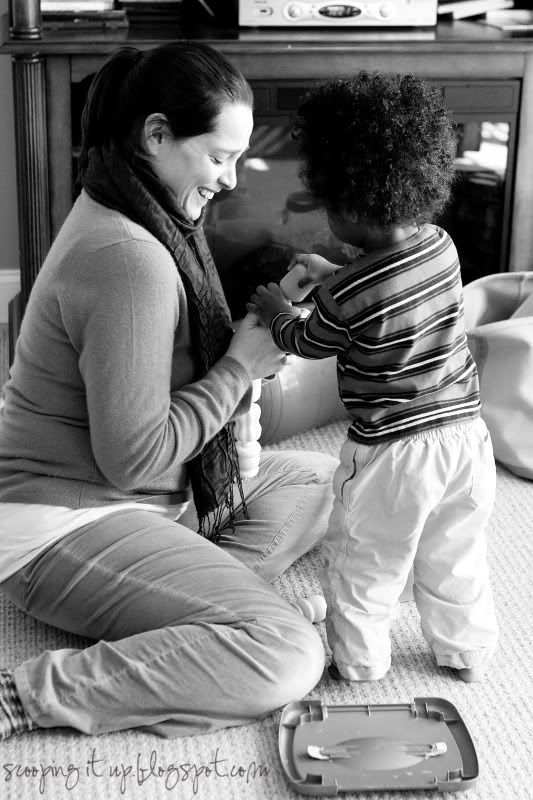 They will help your preemie baby strengthen his hands so he may one day use them to crawl. They will show tricks to help a child build strength in his tongue so he may one day suck and speak. They will help you strengthen his neck so he beat back the torticollis. They will show you how to help him sit so he improves his balance and strength. They will know better than you sometimes (or all the time), what the next goals should be and how to help him get there. They will teach you ways to interact with your child that are not taught in Parenting 101.
They will understand what an amazing mile stone it can be for a baby to finally track with this eyes. Or laugh spontaneously. Or use those pincher fingers. Or throw a ball or his plate on the ground when he's done eating. Or make eye contact while saying hello. Or attempt to copy the words up up up!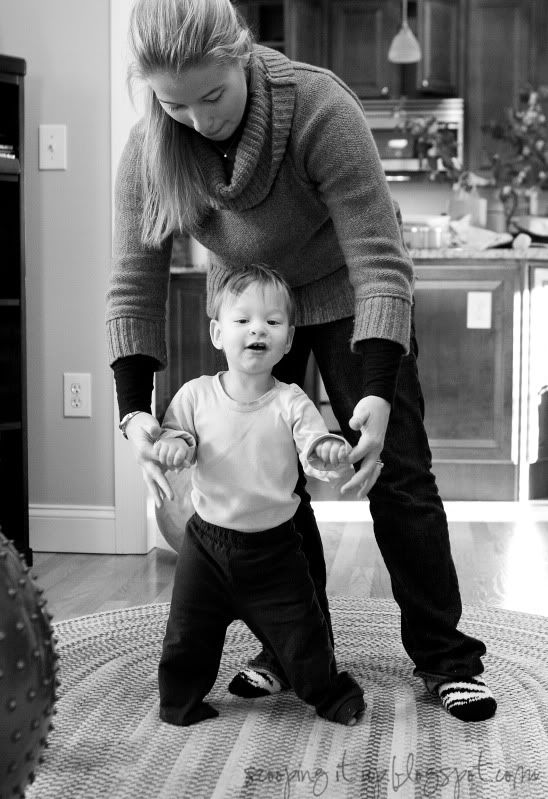 They will rejoice with you at the little things.
They will change everything. But like I said, only if you are as lucky as we are.
This post is brought to you by the wonderful women pictured . They have blessed us more than I can ever express or repay. They all deserve massive raises and free passes to heaven.
Come self-medicate with me at www.scoopingitup.blogspot.com
This is an article written by a member of the SheKnows Community. The SheKnows editorial team has not edited, vetted or endorsed the content of this post.
Want to join our amazing community and share your own story? Sign up here.