Tummy time sounds like something simple that you do for your baby on a regular basis for your baby. Although, for many parents tummy time is not so simple as their babies may scream, cry, and spit up while on their tummies.  So let's go back and discuss why tummy time is so important.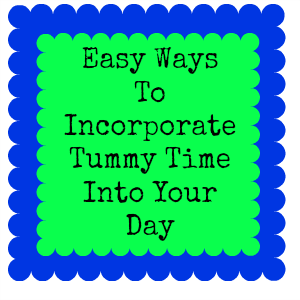 Prior to being a mom I thought well how easy is it to prevent your child from developing a flat head or delaying their motor skills.  Once my baby arrived I totally can understand how it is much easier to keep them on their backs during the day when our days are so busy and hectic and we are SLEEP DEPRIVED!  Sticking children in bouncy seats, car seats, and sleeping them on their backs is how the day seems to flow - think of the term container babies.  Due to this it is so important that we do try to get our children in tummy time as much as we can when we have some down time.  Here are some of the ways that I fit tummy time into our day and ways I make it simple.   
Right from day one C was doing tummy time on our chests.  We also found that this is where he was the most calm.  Think of a baby who has just come out of the womb all nice and curled up and now we through them onto their backs with gravity coming down at them on top of all the sounds, lights, smells etc.  No wonder they don't fall into as deep of a sleep.  Laying with him on our chests was a great way of getting the tummy time in and calming Cas well.  
After Cas a few days old we moved to tummy time on the blanket on the floor.  (I know that some people are hesitant if their umbilical cord has not yet fallen off - then keep working on it on the chest.) Here we would lay right next to him so we were in his line of sight and occasionally would show him some contrasting toys.
Cade just a few weeks old doing his tummy time- drifting to sleep
After a couple of weeks of this we had pretty good groundwork laid down for tummy time.  Yes there still was occasional crying but C was used to being on his tummy.  So now that he was a few weeks older and I was more mobile in getting out with him I had to try to find ways to incorporate tummy time into our day amongst other things that I felt as a "good mom" I needed to do with him.  
One of the big things I did was when we were out I tried using different carriers.  The two that I have to use are the Moby and Ergo.  I have mostly used the Moby at this point as C hated the Ergo with the infant insert.  
C isn't a baby that loves being in a wrap but we try them here and there.  Just make sure when choosing a carrier that you choose one that they baby does not dangle (example Baby Bjorn) and has support all the way to behind his knees (Many different - moby, ergo, becco etc).  
Loves watching his gym on his tummy
We also use the newborn lounger as a pillow that C lays on his tummy on to read his books.  Simplifying tummy time and reading to him by combining the two.  It is literally amazing how focused he is on the book when reading in this position.  
C reading books with dad before bed ~2 months old
Other ideas that I have is making sure that toys or something interesting is out in front of your baby. Make sure that your babys arms are under them to help them work on building that upper body strength. 
Looking at his toys, arms under body working on upper body strength
So in summary keep working on that tummy time!  Hopefully some of the ideas in this post will simplify tummy time for you and your baby and help you understand its importance! - See more at: http://www.pinkoatmeal.com/2014/01/tummy-time.html#sthash.6NK3zVYv.dpuf
This is an article written by a member of the SheKnows Community. The SheKnows editorial team has not edited, vetted or endorsed the content of this post.
Want to join our amazing community and share your own story? Sign up here.