OK.So there's a few things coming up around here. Well, three to be exact.
Firstly, I'm going to have a crack at NaBloPoMo. This is where you post on your blog every day for a month. It starts today, so I am nailing it so far. I'm big on fade-out factor when it comes to challenges though, so for my handful of subscribers, don't freak out just yet that your inboxes will be under siege for the month of November. Example of challenge fade-out #1: I signed up last week to Apartment Therapy's 20/20 Home Cure exercise. So far I've completed 0/0 challenges. Example #2: I tried to write a list a few years back of 100 things I wanted to do before I turned 30. I only managed to get 19 things on the list and subsequently abandoned it until a few weeks ago when I pulled it out to see if I'd accidentally achieved anything on the list. 
So we'll see how it goes. There will be Wordless Wednesdays and plenty of links to other interesting things to read on the interwebz. It's National Adoption Awareness Month in the US in November, which has a focus on adopting kids out of foster care, so I am sure there will be lots of goodies to link to. Secondly, I signed up for the Adoption Bloggers Interview Project. I am a bad blogger and didn't promote it before the cut-off time for registering came along. Oops and sorry. Anyhoo, you are assigned another blogger who has registered and you interview each other, based on what you learn from scouring each others' blogs, (Hello, new friend!) and then post the interview on your blog. Although unplanned, it will conveniently take care of one of the NaBloPoMo posts. Tick!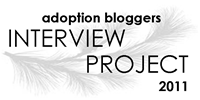 And thirdly, I have also signed up to the AdoptLit Book Tour. Look at me signing up to things! This won't evolve fully until next year, but you can sign up now (until Nov 30th) AND you don't have to be a blogger to participate, so check it out. If you are a blogger, the process is that you read the selected book (Found: A Memoir by Jennifer Lauck), think of some discussion questions that emerge from your reading of the book, submit the questions centrally and then prepare some responses to post on your blog to the other discussion questions posted by other participants. I've orded the book and I am really looking forward to reading it!
So that is that. Day 1 of NaBloPoMo. I may come back and edit this post with some links to the challenge, but from Tortoise Mum's post today, it all looks VERY HARD to officially sign up to any linked experience. Writing a blog post every day is going to be hard enough. Do I really need to invite more first world pain? We shall see.
This is an article written by a member of the SheKnows Community. The SheKnows editorial team has not edited, vetted or endorsed the content of this post.
Want to join our amazing community and share your own story? Sign up here.