Alternate Title:  "How to purposefully decorate your Christmas Tree".
subtitle:  Christmas-time at our House: part 2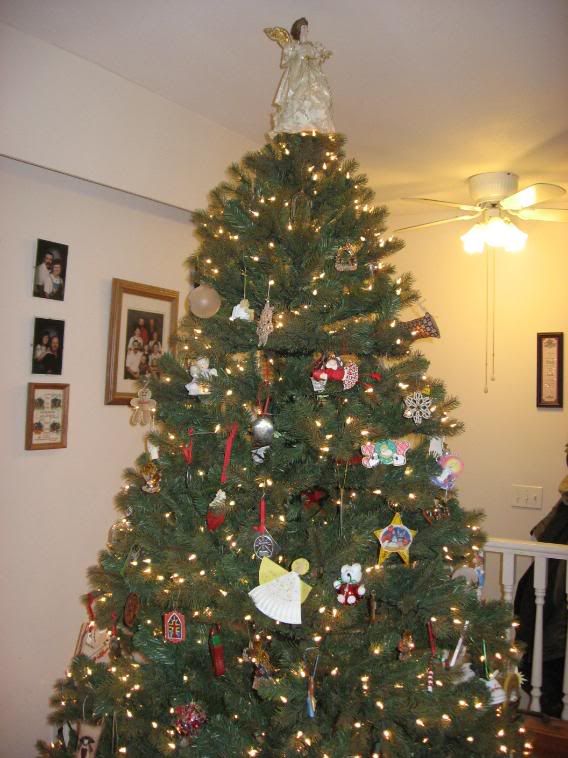 This is the 2nd installment in my Christmas-time at our House series.  We do holiday things differently around our house.  After all, it IS my house and I'm OK with being weird. 
The weekend of U.S. Thanksgiving, usually on Sunday afternoon, my family has always put up the Christmas tree.  Since we're all allergic to real trees, we could make this work with our lovely fake imitation Christmas tree.  (I don't guess you can do that with a REAL tree, eh?  Fire hazard and all...) 
What does a Christmas tree have to do with Christmas anyway?  Martha Zimmerman talks about the origin of the Christmas Tree in her book, Celebrating the Christian Year.  I won't go into detail about all the tree stuff.  It basically has very little to do with Christ's birth at all, but it has been very much a part of the Christmas tradition since Victorian times at least. 
We've talked about it, my husband and I, and we can't find a real good reason to get rid of the Christmas tree altogether.  But we have decided to be very intentional with the decorations that we put on the tree.  What is on the tree should remind us about the real reason for the season - Christ's Birth. 
"Put something where you can see it so your eye will remind your heart."  ~Hebrew Proverb (I have probably already mentioned this proverb, and I'll probably say mention it again in this series.  It is an important principle in the things we do during the holidays.  My husband even preached about icons last night with the same idea in mind.)  We try not to over-spiritualize things, but we are pretty intentional about what we do use.
This is an article written by a member of the SheKnows Community. The SheKnows editorial team has not edited, vetted or endorsed the content of this post.
Want to join our amazing community and share your own story? Sign up here.