A couple of weekends ago, we rented a minivan and drove north to Cleveland, Ohio for my cousin's wedding. We knew it was going to be an interesting trip so, we did our best to prepare for the worst. We had a 9+ hour drive ahead of us and we were going to tackle it with a smile.
We decided to leave on Thursday to give us some breathing room for the trip on the way up. When we got home from work, I fed Baby Hop and did her "bedtime routine" which includes books and singing. I put her in her carseat when she was drowsy and ready to go to sleep. Meanwhile, Hops was making sure the van was packed with everything we needed. I had already packed a suitcase, an overnight bag (for the hotel that night), a snack bag, her diaper bag and a toy bag. I felt it was very important to have lots of different interesting toys to keep her occupied on the long portions of the drive when she wasn't sleeping. These toys were lifesavers. They kept her entertained and smiling, especially on the long drive we made back on Sunday.
Thursday was so easy compared to Friday and Sunday. She slept the whole trip. We only drove for about 3.5 hours because we were both exhausted. I wish we could have gone further, but it worked out okay. Baby Hop woke up when we got to the hotel. She was pretty cranky during check-in (when we met the worlds slowest check-in employee, naturally) but she calmed down when we got her into the dark hotel room. We took our pack n play with us, so we set that up and she slept perfectly in it. I don't use a sheet in the pack n play because I don't think it's needed. It also means less to pack.
Friday, we got back in the car after her morning meal (about 6:30am) and headed up to Cleveland. I sat in the back with her while Hops drove. I was able to entertain the baby and he entertained himself with Sirius. We stopped every 2.5 hours to feed her and get her out of her carseat. She did so good. She would only get cranky when she was tired or hungry. We tried to stop before she got hungry and I would shake the carseat a bit when she was sleepy to help rock her to sleep. During her awake hours, I had an arsenol of toys with me to keep her occupied. These toys and tools helped make the trip bearable: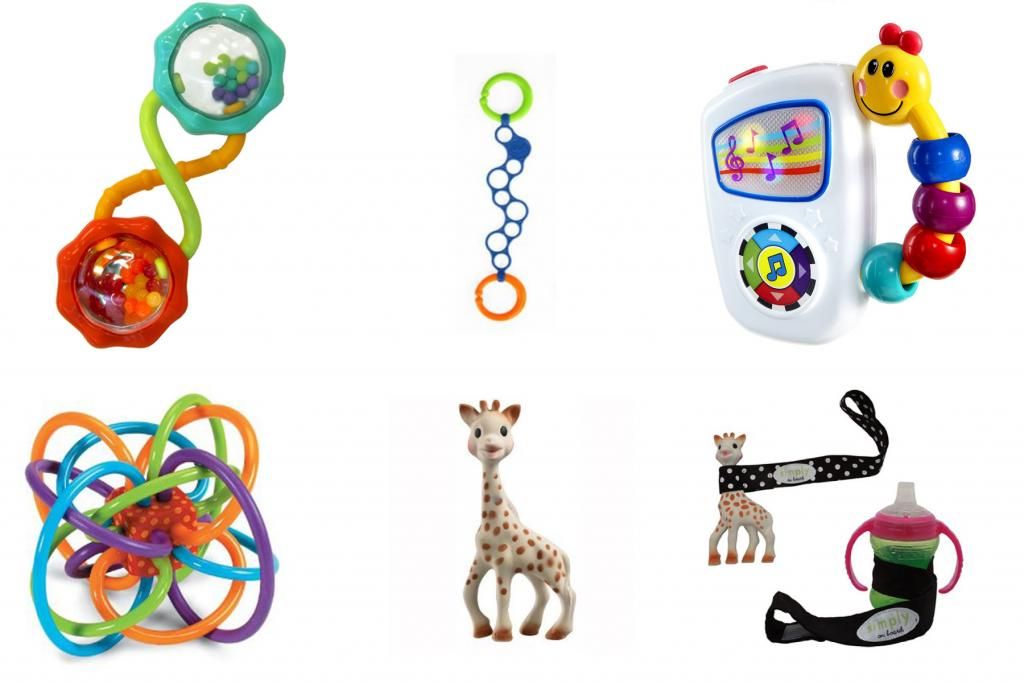 Clockwise from top left:
Our trip on Friday was pretty smooth. The trip home on Sunday was rough. My Dad was with us and it ended up being a 9 hour drive from Cleveland to the Raleigh airport where we had to stop and wait for my Mom's flight to come in. We ended up spending 11 hours in the car that day. She had a half hour meltdown about 8 hours into the trip. I couldn't do anything to make her happy, I even attempted to get her to watch some Sesame Street I had downloaded to my tablet, just in case. I just kept trying new things and eventually, she stopped fussing. It took a while, though, I won't lie. It was a stressful half hour.
I think the key to our trip was distraction. Having something to keep the baby occupied really helped make our trip a success. Would I do it again? Probably. It was worth it since she got to meet her Great Grandma and got to see cousin Alyssa get married.
Oh, but I can't forget this. I prepared really well for our trip with the baby. I did not prepare well for seeing family. I left my camera at home so I had to steal these from my parent who like printing the date on their photos.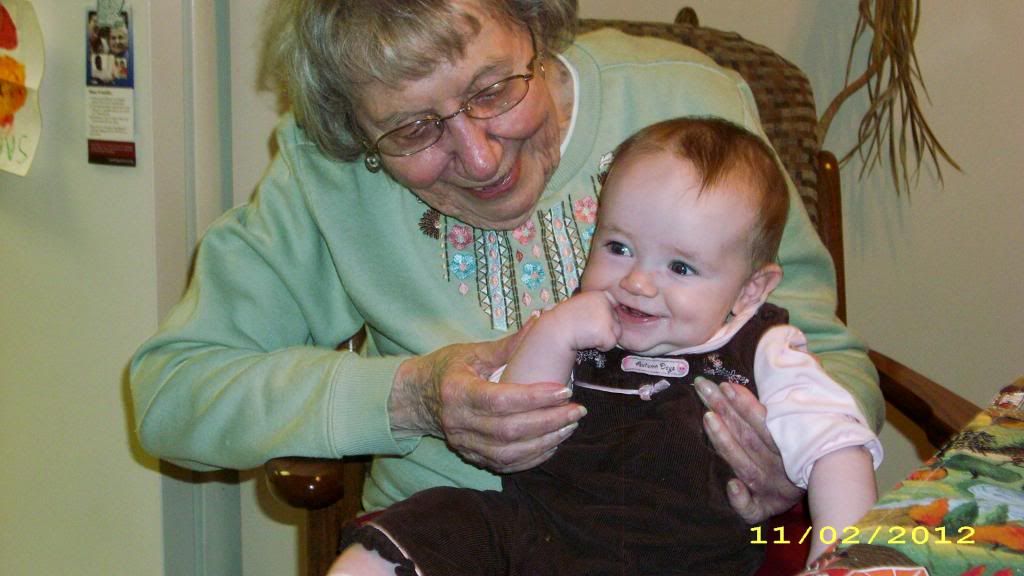 This is an article written by a member of the SheKnows Community. The SheKnows editorial team has not edited, vetted or endorsed the content of this post.
Want to join our amazing community and share your own story? Sign up here.