[Editor's Note: This post is today's featured entry in the Journey to Motherhood with Ricki Lake story contest. Find out how to submit your story and see the video message from Ricki here -- you could win a wonderful prize package! -- Jenna]
When you're pregnant, you have all these expectations of what those first moments with your baby will be like. The joy. The tears of happiness. The smiles that never seem to end. I had all of those thoughts floating around in my head. But for me, the reality of those picture perfect moments were clouded. I became numb. The expectations of joy and tears of happiness and endless smiles quickly turned to fear and doubt and worry. And 15 hours after giving birth, I was alone in a hospital room as my husband followed an ambulance up the highway to a children's hospital, and all because of stridor and trouble breathing and aspirating while trying to eat. She was stable, and I was numb.
The first night as a mother with a baby on the outside, was strange. I sat in a hospital bed, alone, as a nurse showed me how to use a breast pump. And then my doctor sent an Ambien my way. It was the only way I would sleep. The next morning, when my mom came to pick me up, I was wheeled out to a car sans my precious girl. It just didn't feel right. I asked the nurse if I was OK to drive. I told her I didn't take any pain pills, and she said she didn't see why not. I had just given birth about 30 hours ago, I needed to feel in control somehow. I guess you could say those motherly instincts kicked in. Nothing was going to stand in my way of getting to my baby.
When I walked into her hospital room, she looked so peaceful. She was sleeping and bundled up, and the most beautiful creature I had ever seen. I sat down and held her tight. My husband was exhausted. He had been up for over 48 hours between labor and birthing and spending the first night alone with our daughter. We decided that it would be best for him to go home and try to sleep while I stayed with Abby.
At that point, Abby hadn't eaten much. She was just a little over a day old. I wasn't allowed to nurse her because when I did that after birth, she struggled to breathe well. I was told that as soon as she got to the hospital the night before, a scope was put down her throat and it was discovered that she had a partial vocal cord paralysis. My heart was broken. She was given an IV of sugar water. I wasn't going to be able to breast feed her, though the nurses supported me so much with pumping to get my milk to come in.
That night, my first night with my daughter, I never felt so alone. I maybe got an hour of sleep at a time. I was busy pumping, checking on Abby to make sure she was OK, being disturbed by nurses doing their rounds and taking Abby's vitals, and trying to comfort my newborn. There was one moment, around 5 or 6 in the morning, when I just about lost it. Abby was crying, probably very hungry, and I couldn't help her. Nothing I did worked. I couldn't seem to get that damn swaddle thing figured out. I felt like I wasn't cut out to be a mother. I didn't have those instincts just yet. And then a group of doctors, ENT residents and the like, walked in for rounds. I was on the verge of bursting into tears. But I held it together as they did their doctor talk and took over with Abby. A nurse came in, changed Abby's diaper, swaddled her up, and I sat in a rocking chair, counting down the moments till my husband came back to help. He seemed the most natural with her. He calmed her with ease. He swaddled her like he had been doing it for years. And I sat by afraid, not knowing if I was cut out for this mother gig.
A week went by. We remained in the hospital, living there, as they tried to figure out what was going on with the stridor. A decision was made to give her an NG tube to begin feeding her. Swallow studies happened. CAT scans were done. Chest X-rays happened. And they all came back normal. One last test had to be done. They wanted to do another bronchoscopy, but this time they wanted to sedate her. My one week old little girl was going to be put under anesthesia so a camera could see her vocal cords at rest. And then they gave us the tiniest hospital gown I'd ever seen. Because she was going to the OR for the procedure, she had to wear that itty bitty garment. My heart broke.
And then I had my moment.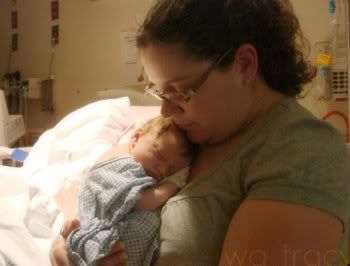 She fit perfectly there on my chest. I kissed the top of her head as she curled up. She felt comfort in my arms, listening to my heart beating, that same heart she listened to for all those months as she grew inside of me. There were others around, but I only saw her. I only felt her. I only needed her. She was my daughter. I was her mother.
In the end, it was determined that she would heal on her own. That sometimes happens with stridor and vocal cord paralysis. We got to bring our little girl home a few days later. And six weeks later she got a handle on the whole breastfeeding thing. And I cried. I finally had that moment I dreamt about. That joy. That happiness and many endless smiles.
She's two now. And when she's not feeling well, or is sad, she crawls into my lap, curls up on my chest, legs dangling beyond my waist. I kiss the top of her head, and she calms. She clings to me. She only wants me. She needs me. I'm her mommy, and that will never change.
Tracy manages and writes for Liberating Working Moms: One Voice At A Time and tweets as @wa_tracy.
This is an article written by one of the incredible members of the SheKnows Community. The SheKnows editorial team has not edited, vetted or endorsed the content of this post.
Want to join our amazing community and share your own story? Sign up here.