This article was written by a member of the SheKnows Community. It has not been edited, vetted or reviewed by our editorial staff, and any opinions expressed herein are the writer's own.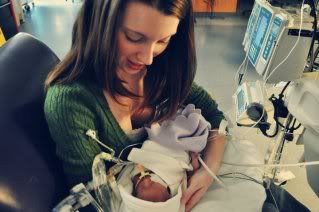 He hit her in the face.
He hit her in the face again.
Doesn't he know that's my baby?
How hard would it be to work slower, tug gentler, move that cord so that it stops hitting her repeatedly in the face? How hard would it be to cradle her head gently in his hands, rather than turning it to the side by pulling on the tube in her mouth?
Can't he see it's upsetting her?
Can't he see it's upsetting me?
Doesn't he know that's my baby?
I didn't like this guy, I decided. I didn't care how good he was at his job. It wasn't good enough if he couldn't realize that every time he moved the cord around it slapped Scarlette across her eyes, her tiny eyes that she squeezed tightly shut against the assault. It wasn't good enough if he couldn't realize that every single time she squirmed my heart seized up in my chest.
That's my daughter. That's my daughter.
I was afraid to say anything because what if? What if I angered him and then something happened and he dragged his feet getting to her, not wanting to deal with that mom.
I held my breath each day as I checked the white board for her respiratory therapist, hoping his name would not be listed next to hers.
Each day I held my breath and I held my tongue.
Regrets.
This week a new baby was brought into Scarlette's room. You're not supposed to know things about the other babies but you do. And that's how I came to overhear the nurses discussing that the baby's mother had the flu. For a moment my heart hurt for that mother that could not visit her child. For a moment.
And then the family of the baby came in. They were given masks to wear, since they had been exposed to the flu, masks which the father promptly removed and stuffed in his pocket when the nurse left the room.
I asked questions. How could this be okay, having my daughter -- my daughter who has chronic lung disease and weighs less than Sunday night's pot roast -- how could this be okay for her to share a room with a family carrying flu germs? Hadn't they been the ones to tell me all about the dangers of Scarlette and the flu? Did the doctor approve this? What were they doing to keep her safe?
And they kindly answered my questions and tried to ease my fears about the minimal exposure and risk of germ transfer. Still I stood that night in the shower until the water ran cold, and I could not tell the droplets from my tears because I simply could not bear the anxiety. IVs and brain scans and hundreds of needle pokes I stood through but this thought of not being allowed to protect her broke me.
I read in my book of stories from former NICU parents that each of their biggest regrets is fear keeping them from speaking up when their instincts told them to question. I identified with that.
I decided then that I was going to be that mom.
And I politely asked to have her moved.
Sometimes you have to be that mom. Sometimes you have to advocate for your child. Sometimes you have to not worry that the doctors and nurses think that you don't trust them.
Oh, I trust them. I trust them with her life every single day. Every day I take my entire reason for breathing and put it in their capable hands.
But I still asked to have her moved.
Scarlette has a new roommate today. One that does not have the flu.
And the nurses still like me (I think).
And it is okay.
For God has not given us a spirit of fear and timidity, but of power, love, and self-discipline. 2 Timothy 1:7
Keep up with KA's writings, workshops and (only slightly) neurotic life at kayla aimee : only slightly neurotic