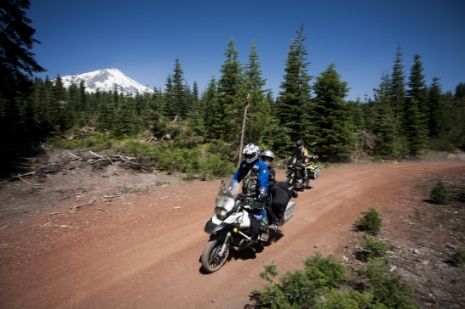 I'm often asked why we do what we do.  Isn't riding as a family of three on two motorcycles dangerous?  Don't you feel like you're being irresponsible riding thousands of miles with your young son on the back of a motorcycle?  To me the answer is simple, but I have to remember that we are different than most families.  And that, my friends, is exactly how I like it.
Many years before our son, Jack, entered our world, Terry and I spent our 20's doing everything we thought we were 'supposed' to do - buy the house, get married, work, school, rinse, repeat.  We also found ourselves helping care for friends dying from various forms of cancer.  After having lost my mom to cancer when I was 19, I felt as if my life was destined to revolve around this horrific disease.  When Terry's best friend lost his battle at age 28 and another friend passed in his sleep at 30 (mind you, while his wife was 2 months pregnant with their first child), we didn't know in which direction we were supposed to go.  We did know we needed a change.  It was time for a new city, time for a new scene.  We headed to a college town in Northern California, buying a sparkly new house in a brand new subdivision.  Aren't we all supposed to drive minivans, have kids, and raise them in the burbs?  Our son, Jack, was born 3 days before 9/11.  I remember the hospital televisions showing nothing but horror and destruction.  As I watched the plane fly into the second tower, I looked down at Jack and whispered, "What have we done?  What kind of world have we brought you into?"  I called my husband, Terry, to verify that what I was watching was real.  Sadly, we all know the answer.  It's easy to feel guilty as a parent, but it's also our job to show our children the world beyond what we see in the media, beyond what we're told we should and shouldn't do.  This lesson would come later. 
The neighborhood had a young vibe and was filled with new mommies and daddies.  All were primed and ready to start book clubs, poker nights and that ever-popular "get-drunk-and-bitch-about-your-spouse" gathering.  The latter was by far the more frequent of the batch.  Jack had some buddies; we thought we had some as well.  All looked good on the outside.
It wasn't until I overheard Terry in a conversation with some of his friends that I knew we were destined for something greater than the usual.
"I saw this used BMW 1150GS for sale on Craig's List", Terry confessed just within earshot.
"Get it", I muttered over his shoulder.
"Well, I don't know.  It's a lot of money..."
"Just get the damn bike", I interrupted.
Case closed.  Terry was officially the luckiest guy in the neighborhood to the dismay of some of the wives.  Many husbands stared at the new machine as Terry rode in and out of the court, hungry for the same feeling of independence.  We overheard more than one wife utter "Don't even think about it" in a venomous tone.  It was quite sad to watch.   Aren't we supposed to love and support our spouse in their desire for new endeavors?  Please don't get me wrong as not all reacted in such a manner.  I tend to remember these moments more than others, a habit I'm trying to break.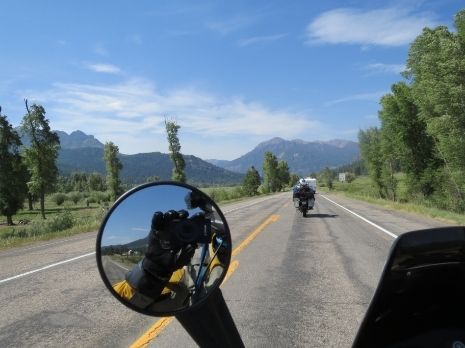 While I enjoyed date nights and long rides with Terry, I knew I would not last as pillion.  I lasted less than six months.  Had I ever ridden before?  Nope!  I always wanted to ride, as I never quite let go of my tomboy childhood.  Lo and behold, in 2005 I became the proud owner of a used 2003 BMW F650GS, ready to take the MSF course and hit the trails.  But, the purchase did not come without a price.  After having purchased his motorcycle, Terry promptly received a scathing email from my dad explaining how irresponsible he was, was he not thinking about his family, blah, blah, blah.  It was now my turn to be schooled by the former lieutenant colonel.  And, I was...relentlessly.  Dad had a hard time understanding why I would do such a thing.   Dangerous, stupid, deadly, irresponsible - I got it all.  But, that was okay.  He's dad.  I must say, though, that the best line I got from him was after the first time he saw me ride off.  Dad stood in his drive way, hands stuffed in pockets, and yelled, "SEWING MACHINE!".  Sorry, dad, but I am a product of the same man that used to fly jets and do sonic booms over California.  He lightened up once I pointed out that little fun fact.
At the age of five, Jack was big enough to touch the rear pegs of Terry's bike.  He was also big enough to wear proper gear - helmet, BMW Stoke suit, gloves, boots and a safety riding harness.  With a huge grin on his face, this kid was more than ready to ride with daddy.  After a lift on-board and a big 'thumbs up', off they rode into town on their first test ride.  Verdict?  The kid was hooked, and so were we.  It was at that moment that we became the Adventure Trio.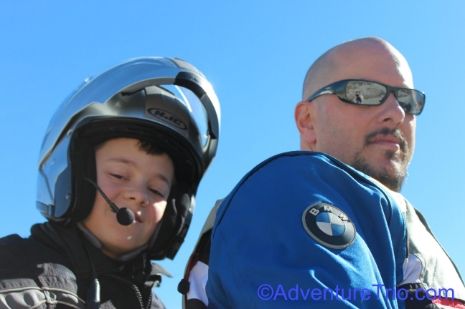 Our first long trip?  It was 2007, and we were going to take 10 days along the California and Oregon coast, camping and hoteling it along the way.  Jack was amazing.  That's a lot to ask from a kiddo.  And Terry and I?  Well, let's just say there was A LOT we had to learn about patience, packing and, the biggest one, reentry into suburbia.  Once we rounded that final turn home, we immediately began bickering, angry at something but not exactly sure what.  This lasted, no joke, for two weeks.  It almost came to blows.  It wasn't until a couple of glasses of wine one night that we figured out the problem - we didn't fit in anymore.  We were different.  We were becoming those weird people.  And, we liked it.  Terry and I found every excuse to take off on a weekend excursion.  Beach?  Only 2 1/2 hours away.  Lake Tahoe?  See you Sunday night!  It felt like we were never home.  Even our neighbors would tell us, "You guys are NEVER home."  But, what we were learning with each trip was HOW to come home.  Don't be bitter because you're back to reality; be grateful you got away and start planning your next weekend adventure.  Heck, start planning your next long adventure.  And, we did.  With each trip we've extended our time and distance.  Ten day turned into two weeks that turned into four.  Oh, how we wish we could just toss it all to the side for a year or five and home school Jack.  But, alas, life does interfere with living.  There's that whole money/job/school thing.
One major benefit we were seeing was the education Jack was getting outside the classroom.  We passed the missions along Highway 101 and he yelled, "I studied about those in school!  It's so cool to see them in person!"  We played baseball at 'Field Of Dreams', standing out in the cornfield waiting for Shoeless Joe to appear.  We camped along the Rocky Mountains from Canada to Colorado, learning how to start a fire in the rain and entertain ourselves while huddled inside the tent.  Jack is now a collector of maps, buying one in each state and country.  He loves to take them on the road.  Once we've landed for the night, he'll spread them out and retrace our route, pointing out interesting places he saw and others he wants to come back to some day.  Oh, the adventures we've had all because we decided to take it back and be us.
We're still learning, and that's a good thing.  As a family, we've learned how to communicate better.  As a couple, Terry and I learned to respect each other and have a better sense of humor.  And as individuals, well, you'll just have to ask each one of us.  I've learned that it's okay to not be like everyone else.  I've learned to turn off the news.   And, I've learned that it's okay to drive a minivan and wear sensible shoes.  Not my bag, but who am I to tell someone that my way is better.  Our motto?  Don't ask why, ask why not.  You never know what you may learn when you turn off the TV, get off the couch, and go.

Cheers,
Sandy Borden
aka Adventure Trio
This is an article written by a member of the SheKnows Community. The SheKnows editorial team has not edited, vetted or endorsed the content of this post.
Want to join our amazing community and share your own story? Sign up here.