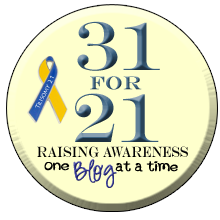 Today's guest post comes from Tracy. We 'met' on FaceBook last year, and both have daughters who have Down syndrome. You can read more about Tracy at her blog, A Life Inspired.
Hello Beth's readers!!!  My name is Tracy, I'm 32, I've been married for 10 years, and I have two kids.  Keaton is 5 and Karis is 2 1/2.   Karis is chromosomally enhanced!  I am so happy to be a guest blogger on Beth's blog.  Doesn't she have the two cutest girls!
Just like Beth, and probably many of you, I have one typically developing child, and one child with developmental delays.  My son, Keaton, started Kindergarten this year, and OH what a ride it has been.  We have dealt with every headache imaginable not being able to find the bathroom, bullies, homework, forgetting lunch, not eating the lunch I sent, poor coloring, low attention span, being sleepy in the afternoons, sloppy handwriting, laziness, misbehavior, crying when I drop him off, puking in the cafeteria, the nurse not getting ahold of us, the list goes on and on and on.  It seems that the drama never ends.  I know you may be thinking we are one of "those families" who delight in drama and always seem to find some, but I assure you, that's not us.  Kindergarten has just been hard, on all of us.  That being said, he's trying hard, and things are smoothing out.  I'm so proud of him, my little peanut!
Meanwhile, back at the ranch, Karis has really been blossoming!  She really enjoys the time at home without brother.  No one is around to snatch her toys away, or talk over her.  She has improved greatly in gross motor skills.  In fact, one day, she decided she could feed herself with a spoon, just out of the blue.  Karis' speech as taken a big jump too. She has come up with some new gestures for coloring, and flipping over (it's a thing we do, on the couch) and she now shrugs "I don't know."  To catch you up to speed, we started seeing her use her sign language as a crutch, so at 30 signs, we had basic communication down, and we stopped teaching her new signs, so now she is making up her own from what she sees around her.  Cool I think!  She's added new words to her vocabulary such as mama, cookie, potty, eat, and drink.  And….drum roll…. she peed and pooped in the potty for 2 days last week.  She has since lost interest, but it's a start.  Karis hasreally impressed us lately!
I wouldn't say Keaton is "struggling" in Kindergarten, it's just been a difficult adjustment.  Our typically developing children are handed a list of certain things that they should be able to do by a certain age, and if they can't do those things, there are notes home, conferences, disappointment, and even punishment.  However, it seems like the world expects almost nothing from our kids with special needs. (I hate to say that, but it's true) so everything that they CAN do, and every milestone they meet is met with the highest of praise!  That's okay, I kind of like that!
Here's my point.  The world sees kids with Down Syndrome as a burden, and they feel sorry for those of us who are blessed enough to have these wonderful children in our families.  They think they are difficult, and disappointing. They are just wrong.  Want proof?  You've read my story.  I have one child that can't possibly live up to the worlds expectations of him, and another who can only exceed the world's expectations for her.  You tell me, which one is my "easy child?"  Neither.  They both have their ups and downs, strengths and weaknesses.  They both bring us immeasurable joy, and a fair share of stress.  They are the same, they are equal.  October is Down Syndrome awareness month, so be aware of that.
Thanks, Beth, for giving me the chance to share with your readers.  You ROCK!  Everyone come on by and see me at "A Life Inspired" http://tracylmccain.blogspot.com/
Tracy
This is an article written by a member of the SheKnows Community. The SheKnows editorial team has not edited, vetted or endorsed the content of this post.
Want to join our amazing community and share your own story? Sign up here.