There seems to be a EX Narcissist epidemic.   The most common statements I hear over social media and blogging are "My Ex is a Narcissist."  OR "I was married to a Narcissist."
Funny, you just don't hear I was married to a complete A**hole anymore.  Why?  Because the A**hole has been replaced by the Narcissist it seems.
Narcissism is a personality disorder (NPD) which technically, can only be diagnosed by a psychiatrist.  But with the power of the internet we can all identify signs and symptoms of Narcissism at our fingertips.  We already know what an a**hole is, right?   So, let's find out what a Narc is…we're  curious.  We begin reading and watching youtube videos on the subject and voila, we're convinced our Ex really is a Narcissist and maybe he IS.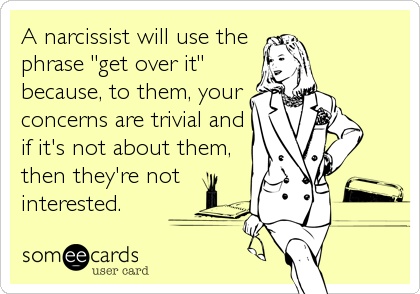 In fact, your ex may very well be a Narc but be careful in self diagnosing and labeling your ex, especially on social media and if you're a blogger.  I'm not saying this to minimize your experience with your ex in any way.  Rather, I write this in hopes to better understand the differences and the similarities between Narcs and a**holes or even alcoholics and abusers.
The Narcissist
"Narcissism, in lay terms, basically means that a person is totally absorbed in self. The extreme narcissist is the center of his own universe. To an extreme narcissist, people are things to be used. It usually starts with a significant emotional wound or a series of them culminating in a major trauma of separation/attachment.
"No matter how socially skilled an extreme narcissist is, he/she has a major attachment dysfunction. The extreme narcissist is frozen in childhood. He/she became emotionally stuck at the time of his/her major trauma of separation/attachment."- How to Spot a Narcissist by Samuel Lopez de Victoria, Ph.D.
The Narcissist is incapable of intimacy, remorse or deep feeling. Loving a Narcissist is like pouring all of your care and affection into a funnel and watching it fall out the bottom.
No matter how much you do for them, they will not appreciate or notice.  They only notice when you stop 'doing' for them.  The people closest to the Narcissist are simply a reflection of himself.  His image is EVERYTHING.
Personality Traits of the Narcissist
Turns every conversation to him or herself
Expects you to meet his or her emotional needs
Ignores the impact of his negative comments on you.
Constantly criticizes or berates you and knows what is best for you.
Focuses on blaming rather than taking responsibility for his own behavior.
Expects you to jump at his every need.
The A**hole
-a selfish individual who often puts their own needs above everyone else, and is not afraid to offend people
-usually described as rough on the outside but mushy or soft inside
-The a**hole has the capability to care and show his feelings on occasion
-the a**hole is capable of true intimacy once they let their guard down.
Something to consider here is we are all capable and probably have been an a**hole at one  time or another.  The time you finally spoke your mind and told your best friend what you really thought OR the time you made a joke that was just a little too cutting…yes, these are a**holey things to do and often we regret them almost immediately.  However, it is unlikely that we all have been narcissists at one time or another.  Narcissism being a disorder and condition that cannot be overcome easily...
You can read the whole post at lisathomsonlive.com
This is an article written by a member of the SheKnows Community. The SheKnows editorial team has not edited, vetted or endorsed the content of this post.
Want to join our amazing community and share your own story? Sign up here.