The Sunday Blues
I was once told by Dick's best friend that I was a "Sunday kind of girl." Dick agreed. I knew that was a compliment coming from those two. Sundays are truly the best day of the week for a 25 year-old man (boy). To Dick, Sundays are meant for staying in bed until 3pm, watching football, and eating nasty food. What more could a caveman (boy) want?
So when Dick acknowledged that he even wanted to spend this precious day with this girl instead, I knew I was in.
When you're in your 20's and have had a crazy weekend, all you want on a Sunday is comfort. Comfort to help you ease the pains the previous night may have caused. And comfort to ease the anxiety you typically feel going into the next dreadful day.
Up until this past summer, I relished in Sundays in Boston. Whether I was spending hours upon hours with friends drinking pitchers upon pitchers of beer, or spending hours upon hours in bed with my beautiful boyfriend, I was always on cloud nine. Sure, the anxiety about the week ahead would always hit at around 9pm, but I was always feeling slightly hazy due to the beer or the boy. I always managed to block out the nightmarish day that was sneaking around the corner.
These days I'm lacking in both regularly available friends, as well as a boyfriend. While it does give me the time to do whatever I'd like on my own schedule, I don't want this time to myself. In this time I'm ashamed to admit I've caught up on Homeland, and re-watched every episode of Dawson's Creek and Sex and the City (for the fourteenth time) at my friend, Momma Sher's house. We are now starting up Downtown Abbey.
I'm convinced I have her boyfriend to thank for this. He spends the entire day at our friends' place watching football. This frees up Momma Sher which in turn keeps me occupied and content. If it wasn't for Momma Sher, I'd be in deep doo doo every Sunday. However, I'm already starting to worry about what I'll do when football season is over, and there's no more room on Momma Sher's couch for me
Think it's time for a real hobby? Or, is now the time to polish up my writing and resume, and narrow down my career aspirations?
Maybe Sundays aren't going to be so bad. Maybe by the time football season is over, I'll be spending my days planning my move to the new city. Or maybe, by the time football season is over, there will be a new man to spend my Sundays with. The Super Bowl is just around the corner, so this short amount of time will most certainly tell here.
PS - Go Pats!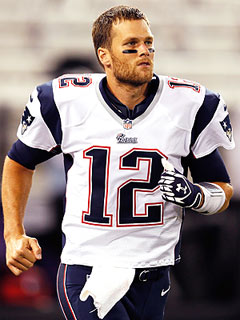 ROB CARR/GETTY
Are we lucky in New England, or what?
This is an article written by one of the incredible members of the SheKnows Community. The SheKnows editorial team has not edited, vetted or endorsed the content of this post.
Want to join our amazing community and share your own story? Sign up here.