This article was written by a member of the SheKnows Community. It has not been edited, vetted or reviewed by our editorial staff, and any opinions expressed herein are the writer's own.
Can you be too nice during divorce? Absolutely!
Being too nice during your divorce can cost you…money, assets and even the kids.  I've heard many stories of regret and loss due to taking the 'high road' and being 'nice'.  This is especially true for us women as we are raised to be caring and nurturing. It's part of our feminine quality.  It's double true for women who make the decision to leave.  They, more than anyone are troubled with guilt which leads to being too nice and trying to keep everyone happy.
One of the reasons women have a more difficult time being cut throat in business, is because of this genetic or learned quality; being too nice!    'Too nice syndrome', not just during divorce but in all areas of life will cost you.  I still work on this…my new mantra? Be more selfish…I know it sounds terrible but it works…My son even told me 'Mom, stop caring so much'.
There's a fine line between your front door and turning into the mat lying outside it.
Know the difference before you're walked all over.  Case in point, saying 'no' sometimes is okay.  It's not terrible when the kids get mad at you, it just means you're doing your job.  It's not terrible to incite anger in others, in fact sometimes it's necessary for change.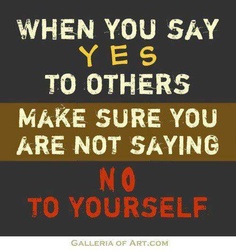 source; Pinterest
It's okay to tell your lawyer what you expect.  It's okay to be strong.
It's okay to say 'no' to your ex when he asks for the kids on your weekend, again!
It's okay to tell the people in your life what you need or expect… how will they know otherwise?
Read the whole post at lisathomsonlive