This article was written by a member of the SheKnows Community. It has not been edited, vetted or reviewed by our editorial staff, and any opinions expressed herein are the writer's own.
There are always tons of faux "research" studies placed on the internet that go viral and people get all aflutter about nothing, so I really thought for sure that this was another bit of internet hokum, but I always have to delve deep! Apparently there is some validity to this study, but lets not just start groping women in the name of science, there is always a time and a place for things, plus, the study that was done wasn't based on people grabbing breast tissue in a recreational manner.
What is the Research?
At the University of California Berkeley, a study was performed looking at the effects of physical pressure on malignant (or abnormal cells) and their growth, and actually visualize of this pressure helped to change how the cells grew and their patterns.  They were able to use flexible silicone chambers, that housed malignant cells, and they found that when the pressure was high enough, during the first stages of growth, the cells actually started to  mutate, in a good way, and start growing in a healthier and more organized fashion. Essentially, by squeezing the cells, they were able to redirect how the cells grew.  Once the tissue was structured as breast tissue should be, they stayed in a normal state.  The malignant cells that had no pressure applied to them, grew with no true structure and just as typical cancerous cells grow, without purpose and causing destruction.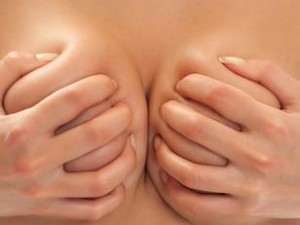 What does this mean?
Well, as I said, it doesn't give people carte blanche to go around groping women's breasts BUT it should add fervor to your monthly self exam (maybe check weekly, ladies!) but it is a huge leap forward in breast cancer research.  There have already been companies attempting to create cancer detecting bras, maybe they can create compression bras (or weren't those just called corsets??) On a serious note, do feel free to really squeeze with your self breast exam, and anything abnormal that you may feel....and then go see your healthcare practitioner (HCP).
And, I guess there is a new pick up line out there for anyone who wants to feel some breasts....just what we all needed!
Yours in Good Health
Nurse Bridgid