Once upon a time, I was younger. Dumber. Maybe a little prettier. Definitely skinnier. 
And boy-crazy.  OH MY GOSH. You have no idea how boy-crazy I was. 
Looking back, I'm not sure how I didn't see it. For a long time, my boy-craziness defined me. In college, I (like lots of girls) spent my weekends drinking socializing and looking for boys. You know... because somewhere, among the sea of ridiculously shallow and inconsiderate fraternity boys, might be The One. 
He's the key to your happiness when you're a young woman. And your future depends on him... or so you think. 
I dated a lot of boys before I met MPH.  I'm not going to say they were all douche-bags. There were definitely a few diamonds among the dirt. But, for the most part, boys that age are all basically just douchey walking bags of hormones. 
And I got my heart broken on more than a few occasions. So, when I refer to "that douche-bag" in the post title, I'm not referring to just one douche-bag. I'm referring to the collective douchey-ness of all my ex-boyfriends.
Young girls are funny. We spend 75% of our waking moments when we are younger looking for someone to make us happy, because we believe they will. As someone who is older and wiser, I wish I could go back in time and tell my 20-year-old self to stop wasting time on dumb boys and focus on figuring out how to make myself happy because eventually, all those lame boys will grow up. They won't be so douchey anymore. And, eventually, you won't be so boy-crazy or desperate. 
And that's when you find the one. 
See, this post isn't actually about That Douche Bag. It's about how I met my husband.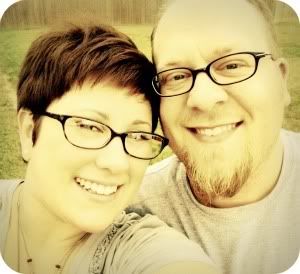 When I met MPH, I had been "single" for the longest amount of time in my entire dating life. I'm one of those girls who had a boyfriend when she was 12 years old and never looked back. Back-to-back boyfriends, people. And every time, I just knew he was perfect. 
Until he wasn't.
When I met MPH, I knew immediately that he was different. Because I saw, immediately, that he wasn't perfect. He was short. He was nervous. He ran over a curb on our first date. But he opened doors for me and held my hand during the movie. He was a great kisser and he made me laugh. 
Most importantly, from the very beginning of our relationship, I was at ease with him. He never made me nervous, never made me feel like I had to work to impress him. I always got the feeling that I impressed him just by being me. I had never felt that way before. And I still feel that way. 
He knows when I need a hug. He tells me the truth even when I don't want to hear it. He works hard and loves his children with his entire heart. But he also curses like a sailor and talks too loud when he gets excited about something... and he never throws his pop cans away. 
For all his flaws, he's still mine. And I'm still his. Never before in my life have I ever been in a relationship with no worry of when it will end. That doesn't mean we don't have our problems. We do. But even when we came thisclose once to calling it quits, life whopped us on the head and made us realize we could never throw away such a meant-to-be thing. 
My point is this: to all the single girls (and guys) out there, stop looking. Stop trying so hard. Your life willeventually take you where you are meant to be. Make yourself happy.  Realize that young boys, before they are men, are all douche-bags.  (I'm pretty positive MPH was a douche-bag long ago, too.)
Eventually, they grow up. And so do you. And that is when real love happens. 
Rachel lives in Indiana with her 3 very small, very loud, very loved children, her husband and a dog named Ernie.  You can visit her any time you want at www.poppytheblog.com.
This is an article written by a member of the SheKnows Community. The SheKnows editorial team has not edited, vetted or endorsed the content of this post.
Want to join our amazing community and share your own story? Sign up here.