Although Valentine's Day is this coming weekend, there is still time to for some romantic heart-shaping crafting.Whether you choose to create with yarn, fabric, or paper, here are some fast ways to get your heart on.
An Hour:
Any little thing could benefit from just a bit of heart-shaped embellishment. For a super-quick dress-up item, you might try:
A Heart-Shaped Pom Pom. All you need is some yarn, your fingers, and a pair of scissors. Kawaii Crafter at Zakka-Life takes you through the simple steps to make up these poms that are the height of cuteness. One tip in the comments: Flatten the top and bottom of the pom to make shaping it easier.
Also with just a bit of yarn, you can crochet a number of these adorable Teeny Tiny Crocheted Hearts from Julie K. The secret (I've used it myself) is to start by crocheting a magic ring.
An Evening:
If you have an evening or part of an afternoon to create your heart-shaped gifts, gather your supplies -- and maybe the kids -- to have a go at: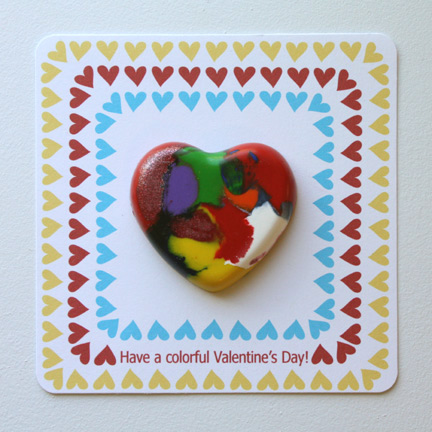 A Crayon Colorful Valentine's Card. Gather those broken bits of crayons -- the more colorful the better -- to mold the center heart shape. The Long Thread provides the pattern as a .pdf and points the reader to directions for melting the heart in the center. I think receiving one of these would also melt a heart, don't you?
The Purl Bee offers a complete tutorial on making a special heart-shaped zippered pouch -- actually making three at a time. Sew these up, then fill them with candy hearts or small charms to give to all those special people in your day. This tutorial provides great clues for sewing a zipper on a curve. Read them, breathe deeply, and do not fear the zipper.
If you just can't face the zipper, Diane Gilliland has a charming and simpler tutorial for making a quick Valentine's Sachet. Layered felt hearts on the top give it dimension and sweetness. Grab a fine-line felt-tipped pen or some embroidery floss to add a personal message to the center hearts, too.
A Couple Evenings Or A Long Afternoon:
Embroidered heart-shaped pins can we worn for more than just Valentine's day.  Maggie from Maggie Makes, offers the pattern and instructions for all four of these designs in a .pdf download. After studying the tutorial, I think I could easily attach one of these to a wrist band for a pincushion, fill one with walnut hulls to use as a needle strawberry (is there a better name? I do not know) to sharpen and clean my needles, or fill it with potpourri as a cute little sachet for my delicates. How many other ways might we spread this embroidered love?
I fell in love with Flower Patch Farmgirl's book wreath project last December. Now she's adapted the same recycle-a-paperback into a paper wreath with hearts. This time, she used a heart-shaped punch to create hundreds of hearts to add to her wreath. The red ribbon? Perfectly accents the work.
Crafting a Green World shared a creative video by Shiho Masuda for making a pop-up valentine card from magazine photos and card stock. The only change to the video they added was to use a glue stick instead of the volatile spray adhesive.
What are you doing to get your Valentine crafty heart beating?
images copyright the original blog owners.
This is an article written by one of the incredible members of the SheKnows Community. The SheKnows editorial team has not edited, vetted or endorsed the content of this post.
Want to join our amazing community and share your own story? Sign up here.