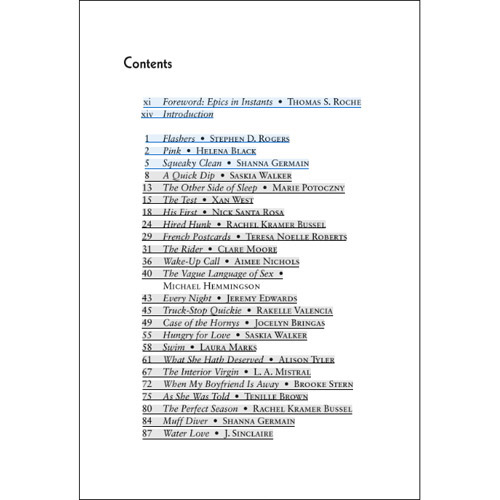 Oh, the allure of the quickie! The surge of desire that comes in an instant, all-encompassing, demanding instant gratification. Alison Tyler has compiled a sweet collection of tales that pay homage to the eroticism that can be found anywhere, anytime.
Got a Minute? — 60 Second Erotica
edited by Alison Tyler may inspire you to snag your sweetie for a quickie in the laundry room or grope your lover in an elevator. Is it better to read about quickies than to actually live them out? Is there such a thing as a long quickie? Are quickies like pizza — there's no such thing as a bad one?
We'll be chatting all this and undoubtably much more during our next
Naked Reader Book Club meeting on April 12 from 8pm to 10 pm EST on the EdenFantasys Community Forum
. As always, everyone is welcome at the Naked Reader Book Club, whether you've read the book or not! If you're a fan of quickies or super short erotic fiction, you'll want to stop in and join the rapid-fire discussion about books, sex, and who knows what else!
Are you a fan of short, short stories (flash fiction) or sudden sex? Do you anticipate those unexpected moments to be found on the page or in real life, the moments that take your breath away with their immediacy? Can fiction do justice to that kind of instant passion? 
For those who like their erotica in a flash, Got a Minute? offers a deliciously romantic and fiercely sexy collection of super-short stories. From heavy petting at a stoplight to panties torn off under a restaurant table to putting on a show for the neighbors, these perfectly penned stories give a quick and steamy thrill that will leave you aching for more. Short in length but long on lust, the stories in Got a Minute? are red-hot reading.
Venerated erotica publisher Cleis Press, EdenFantasys.com, and SexIs Magazine co-pilot this ongoing online book club for inquiring minds who love to read about all things sexual—from the politics of pornography to the erotically evocative boundaries of desire.
For more information on the Naked Reader Book Club, book titles and reviews, erotic video readings and more, visit the new Naked Reader Book Club blog! If you are interested in being a review for the Club, email The Naked Reader for more information!
This is an article written by a member of the SheKnows Community. The SheKnows editorial team has not edited, vetted or endorsed the content of this post.
Want to join our amazing community and share your own story? Sign up here.