Confessions of a vegan lifestyle coach: I have an omnivore husband
Good morning!  If you are on my email list you have (or will!) receive my first  Go Vegan with JL newsletter today! I hope you enjoyed it! I look forward to sharing more tips like this: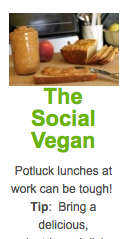 Such a tease, right? If you didn't receive the newsletter you can view it here. Be sure to sign up for my email list so that you can receive the next issue directly!
Today I wanted to talk about something very personal and very public.  It's about my husband – that's personal.  It's about being a vegan blogger and a vegan lifestyle coach – that's public.
A reader sent a message on my Facebook Page over the weekend in response to a post about a vegan dish prepared by my omnivore husband. She wrote to ask why I use the phrase "omnivore husband" so often; she said that it causes her pause. She continued:
JL—I am confused at why you can have so much compassion towards animal and have an omnivore husband? Why has he not transitioned like you?
I responded:
The reason I say "omnivore husband" is to let other people know they are not alone if they live in a mixed house. It brings more people in than alienates. I get so many emails from women who are going to leave a vegan diet because of their husbands. That would be horrible! I remind all of us that we can live joyful, vegan lives that are not contingent on others.

When my husband and I married we both ate meat. Are you suggesting that I give him an ultimatum or divorce him for not thinking and believing as I do? I don't think you are. And I wouldn't. I went Buddhist seven years into our marriage. He could have left me, or "demanded" that I remain Christian. But he didn't because he knows that he married an equal, not someone he could boss or order around. Years later, he too became Buddhist, on his own. I am living a joyfully vegan life and my omnivore husband dines out with me at vegan restaurants and he makes me vegan meals. Each time he is eating vegan with me he is not eating an animal. That brings me immense joy. If he ever goes vegan, it will because he had a profound reason for doing so – and will therefore be more likely to remain vegan. Becoming something for someone else is never as powerful as becoming something for yourself.
How exactly does living with a non-vegan work? [click to continue…]
JL Fields, a vegan lifestyle coach, writes the blog JL goes Vegan and writes/edits the community blog Stop Chasing Skinny.
This is an article written by one of the incredible members of the SheKnows Community. The SheKnows editorial team has not edited, vetted or endorsed the content of this post.
Want to join our amazing community and share your own story? Sign up here.