I've hooked up with Shell at Things I Can't Say for Pour Your Heart out Wednesday.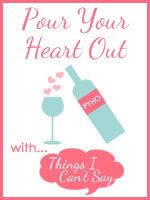 Christmas has come and gone and with that, all of the gift money my husband and I received has been spent.  I spent mine on a Kindle (the $79 one).  My husband spent his on an MMORPG.
I know you're asking yourself what that conglomeration of letters stand for.  It stands for Massive Multiplayer Online Roleplaying Game.   If you know someone who plays World of Warcraft, they are playing an MMORPG.
I have now become an MMORPG Widow.
My husband is a big geek who likes to game and likes all things science fiction.  I have become used to this because this is part of who he is.  I have an inner geek I get in touch with from time to time, like the time he got me hooked on Doctor Who.  Well, Doctor Who when David Tennant played the Tenth Doctor, that is.
My husband has always gamed in some form.  Early in our relationship, I was a Dungeons and Dragons widow.  I spent many Saturday nights alone while he went off to participate in marathon D&D sessions run by a man who had no girlfriend or wife in his life so he could spend fourteen hours of a Saturday playing D&D without someone else feeling neglected.
Then I was an Amtgard Widow.  Amtgard is a LARP, which stands for Live Action Role Playing game.  You're probably saying, shouldn't that be LARPG?  I would agree with you on this, but I didn't make up the acronym.  Basically, Amtgard is a fantasy based game where you adopt a persona, choose a class, make some foam padded weapons and you meet in a park at least once a week to beat on other people with your foam padded weapons.
For quite some time, Amtgard consumed his life and I spent many a Sunday afternoon alone.  It was fine during football season.  My husband hates football.  Back then, he hated it more.  So this was a win-win.  I could watch the Packer game without him making  snarky comments about "dumb jocks" or how die-hard football fans needed to get a life (this comment did not sit well with me especially since he hated it when people said the same thing about sci-fi nerds).  I was also free to yell and scream in joy or frustration at the TV.  Yes, I'm one of those people.  Football season only lasts for a short time, and then it's over.  The months of February through April in the upper Midwest are still cold, still snowy, and most of the time, there is nothing outdoorsy to do until May.
But the rest of the year, particularly spring and summer, I began to resent his laser-like focus on this LARP.  We didn't go camping in the summer because he had to go to the park.  We didn't go out for a drive because he had to go to the park.  We didn't (fill in the blank) because he had to go to the park.
In fairness, the park was new, he founded it, and he had to spend a lot of time there so it wouldn't falter.  I knew this, but it didn't stop the resentment.
As our relationship progressed, we had to come to some sort of an agreement on his gaming because I was really resenting that he would spend all this time involved in his hobbies and not spend time with me.  So we came to an agreement on this.  He ended up joining another game where the sessions were a few hours instead of fourteen.  And he eased off on the Amtgard, too.  Things were happy again.
When we moved, he had to say good-bye to all of this and find new outlets to game.  Sioux Falls, apparently, has a very large geek community that is underground and much to my husband's frustration, he hasn't been able to tap into that yet.
I know he misses gaming and I know that is why he bought this MMORPG with his Christmas money.  However, over his time off for the holidays, particularly on New Year's, he spent ALL DAY on that damned computer playing that damned game.
I know what you're thinking.  Well, why don't you say something to him?  I do.  When I want his attention I do say so.  I will suggest Mystery Science Theater Night.  Or I will say, "Hey, it's a nice day; let's go out to Falls Park" or things like that and he will tear himself away.  But I'm getting tired of always being the one to suggest it.  For once, I wish that he would take the initiative.  I know that most of the time, I'm sitting in the living room with my laptop, but at 7 in the evening, I'm more likely to be playing a mindless game of Solitaire on it than working on writing.  I do the majority of my writing during the day when my mind is the sharpest.   But all he has to do is come out and say so and 99% of the time, I'll say sure.
I wish there was an industry that catered to us MMORPG Widows.  Hunter's Widows get sales during hunting season, not to mention that Chippendale's comes to town opening weekend.  I know I'm not the only MMORPG Widow out there.  I want my male strippers, dammit!
In spite of stereotypes, many gamer geeks:
a)      do not live in their parent's basements
b)      have girlfriends and wives of the actual human variety
c)      have real sex on a regular basis
d)     are not socially awkward people
I am aware that the MMORPG fills a need that my husband has with the gaming.  There isn't an actual gaming group he could go to where the game interests him.  Despite the times he has played D&D, he's not really into D&D.  He went mainly for the interaction.  Games like D&D require using the imagination to create characters.  A roll of the dice puts you and your character into a situation and you have to use your imagination to deal with that situation.  Gaming fills a creative void in him in much the same way as writing does for me.
I just want some moderation.  That's all.  I don't want to be an MMORPG Widow.  It's pretty lonely.
This is an article written by one of the incredible members of the SheKnows Community. The SheKnows editorial team has not edited, vetted or endorsed the content of this post.
Want to join our amazing community and share your own story? Sign up here.