Have you ever wondered how to successfully approach someone that looks like they may be a good match for you? While there are a few proper ways to do so, there are also many ways to really turn someone off, so they won't give you the time of day. Make sure you are skilled at the art of the approach or the girl/guy of your dreams, may walk away and never look back.
The art to successfully meeting someone is in the approach and finally in the delivery.
1. Rings- Make sure that you check a person's ring finger before you even waste your time. If the person is married, what is the point of trying to pick them up? If the girl or guy tells you that they are married, then walk away.
2. Eye Contact- If you are out at the gym, a restaurant or of course the bar, the best way to get a person's attention is to make eye contact. There is nothing better than someone, who you may find attractive locking eyes with you a few times. After a couple successful glances, a smile is always a nice precursor. If he/she smiles back, you know you're in. If they look away and pretend they don't know you're alive, well it is most likely a lost cause. Now, we are not saying that is always the case because some people are painfully shy. You have to ask yourself if that is the type of person you want to be with before you make a move.
3. Pick Up Lines- So, you've got the go ahead, the smile, now it is time to approach. Do this very carefully and DO NOT use a cheesy pickup line. We all know the classics, "Did it hurt? When you fell out of heaven?", "Do you work at McDonalds? Cuz I want you to be in my happy-meal" (this one is bad and we personally told the guy never to use it again). Walking by her and saying, "Wow" or "Dang girl" is lame and our ultimate favorite that we just heard over the weekend, "I am going to stalk you inside the bar" are all no's and some are actually scary. No girl wants to hear a "pick up" line. It makes you look classless and inexperienced. Girls love a man that is confident and exudes class. Ladies- the same goes for you. So…what do you do in this moment of desperation to get the girl or guy of your dreams to notice you?
4. The Big Move in a grocery store, charity event, gym, or restaurant- This may sound crazy but just be yourself. Approach the person you are interested in and say hi. Tell her/him your name and that you noticed them. If you are in a place that is not a bar, the best thing is to say this, "Hi, I thought your were really adorable and I didn't want to miss the opportunity to say hello.  I would love to find a time to take you to lunch or dinner, can we exchange information? If he/she says that they are spoken for or are just not interested then that is OK, be proud of yourself for manning up and asking. Just say, "OK, well have a wonderful day and consider yourself complimented." Smile and walk away, chalk it up to good practice for the next time.  If the person happens to be single and interested they will realize that you are sincere and will take down your information. If they don't call, it's their loss.  Hint- Have a business card ready to make it smoother.
5. The Big Move in a bar/club- Sometimes the most dreaded place to meet someone is at a bar or nightclub. It sounds so cliche but hey a lot of people meet that way, so we can't rule it out. Here is what you do. Once again, after you check the ring, make eye contact and obtain the smile, walk up and be yourself. Take your time and don't come across as too hyper or exuberant. Be relaxed and carry yourself with pride. Walk right up to the group, since most people travel in pairs or packs and introduce yourself. Make sure to introduce yourself to others in the group as well. Offer to buy your interest a drink or better yet a round for the whole group. (Of course if you are a female, since we believe in chivalry, we think the guy should buy you a drink but it can go both ways) Make sure to make eye contact. Don't let your eyes wander around the room, around their friends or to their body parts. Ask her/him questions about themselves and listen to what they say back. Keep focused and for G-d sakes don't get drunk. There is nothing more unattractive than a slurring person trying to pick you up. If you are toasted then wait for the next time to meet someone of quality. By now you will have most likely gauged if you had a chance. Don't overstay your welcome and tell them you really enjoyed talking to them and that you would love to get their number, so you can take them to lunch or dinner soon. Exchange numbers and Boom! Invite us to the wedding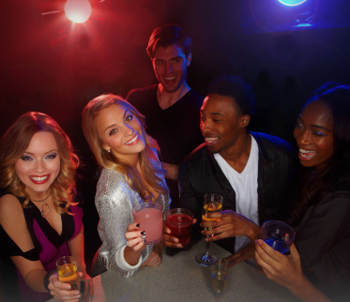 Here is another blog to help figure out when is the right time to call and other dating tips. A Rulebook for Throwing out the Dating Rulebook
We hope you find these tips helpful. We felt it was necessary since obviously many people are in the dark about how to approach a person if you are truly are interested in them. Do not sabotage yourself right out of the gates. Think of "The Art of the Approach" as a delicate flower, that needs nurturing to bloom and to eventually close the deal. 
xoxo~ T2B
Photos sourced from: buzzle.com, goodreads.com, womenwantme.com, sodahead.com, elitedaily.com, themodernman.com
This is an article written by a member of the SheKnows Community. The SheKnows editorial team has not edited, vetted or endorsed the content of this post.
Want to join our amazing community and share your own story? Sign up here.