This article was written by a member of the SheKnows Community. It has not been edited, vetted or reviewed by our editorial staff, and any opinions expressed herein are the writer's own.
Many people like traveling. However, there are those, who are very experienced in this issue. The majority of them want their trip to be unusual and different from the previous one. Nowadays there are plenty of extraordinary hotels around the world that will never leave you indifferent. Their uniqueness might be consist in various aspects, such as interior design, visual look, form, location, even the materials used, and so on. There exist a great number of places, which deserve being mentioned. Let's observe the most striking ones.
IceHotel
It may be hard to believe, but this place is completely made of frozen water, which is taken from the Torne River. It is situated in Sweden. The hotel needs to be reconstructed every year in winter. Depending on your personal taste, you can get either warm or cold room. Of course, it is possible to book real ice rooms as well as art ones (which are decorated with glass). Besides the interiors, there are much more beautiful things outside, including Northern lights. It is possible to book a room with the artificial ones as well.
The Crane Hotel
Let's continue with our list of the most unusual hotels of the world. Everything is quite attractive and absolutely unusual in this place, including inner and outer design. The first thing people pay attention to is the form of the real crane. It's even hard to believe that it is a hotel. What is more striking is that the tourists are allowed to operate it and get an amazing 360-degrees view. Not more than two people might be there at the same time. And the price isn't very low (about 400$ per night). However, everything is worth it.
Giraffe Manor
This hotel in Kenya might seem ordinary enough. However, it you stay and look around, you will see… a couple of giraffes walking along the paths! They may even have breakfast with you thanks to the large windows. So, all the animal lovers will like it by all means. Concerning the suits, they are very comfortable and luxurious.
Kakslauttanen Igloo Village
This is one more opportunity to have a nice rest in the chilly weather. In Finland, there is a beautiful hotel, where you can pass time in a warm igloo made of glass looking how the snowdrops slowly fall on the roof. The view is just amazing. It is the best way to feel tranquility and calmness. Just imagine – you are in the centre of the forest, and all you see around you is just snow. If you appear to be lucky, you can also see the Northern lights.
Hanging Gardens Ubud
This place is opposite to the previous one. First of all, it is located in Indonesia, in (you won't believe) the centre of the jungle. Each suit possesses its own pool, while the view is wonderful. Everything around is green. You may find vanilla, chocolate, coconut, cinnamon, and plenty of other trees there. It is also possible to book a villa and have rest close to nature.
Jumbo Stay
Like sleeping on the plane? Then, this is just for you. A huge jet is located in Sweden. Everything inside and outside is like a real aircraft. Of course, it offers all the facilities for good rest. The view from the front window is very beautiful. However, this place is able to accommodate not more than three adults.
The Hobbit Motel
This New Zealand thing seems to be created for all the lovers of "The Lord of the Rings".In this place, you can feel as if you are in a fairy tale – green grass, tiny round houses, trees and mountains. Isn't it Middle-Earth? What is more, you can stay there both in summer and in winter, because the material it is made of is capable of keeping warmth and coolness. The hotel can accommodate up to six people at the same time.
HangNga Guesthouse
It is another fairy-tale-like building situated in Vietnam. It is often referred to as Crazy House. The hotel actually resembles a tree. An each of the rooms has its own animal theme.
Bivacco Gervasutti
It is in Italy almost on the top of the mountain. It is appropriate for those, who like loneliness and extreme. This hotel is actually a kind of a capsule, called after the Alpine climber. Only if you are a climber yourself, you will be able to try this thing.
Amangiri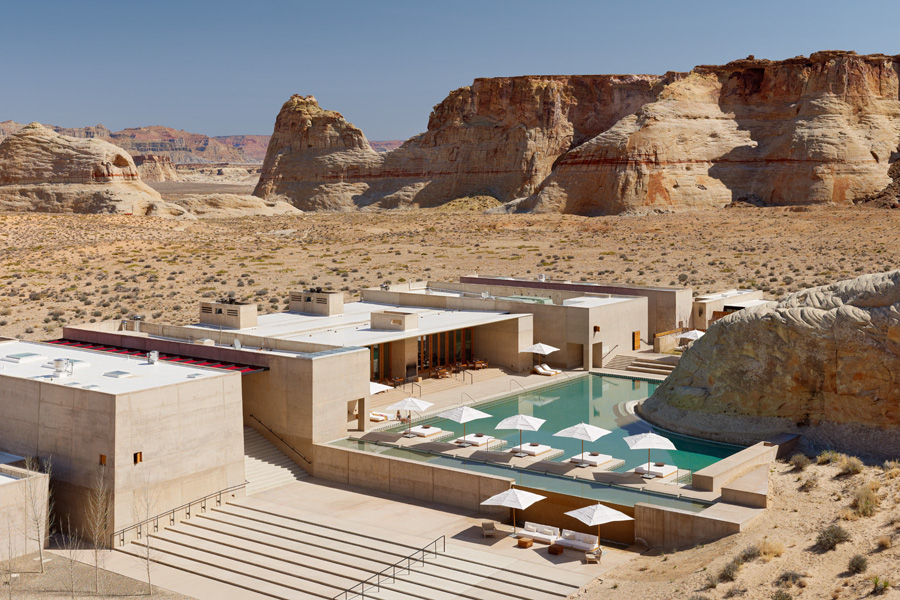 This magnificent place is in Utah, the USA. It is a good choice for those, who prefer comfort and nature at the same time. It is located in the centre of Canyon, which makes this place solitary and calm. Have your time, feel harmony, and use the Spa. The suits are minimalistic, but there is always a nice view from the large window in each rood. Pastel shades will make you relax.
 These are the list of the most unusual places around the globe. Visit them, and you will never forget your experience. You will always find something new in each of them.