I am lucky to have once had a boss who showed me what it would look like to be competent, likeable, and also very firm in my speech and actions at work. While I've been fortunate to have a number of positive female role models in the workplace over time, this woman in particular stood out to me for her seeming commitment to not let her gender or stereotypes about her gender influence her success at work.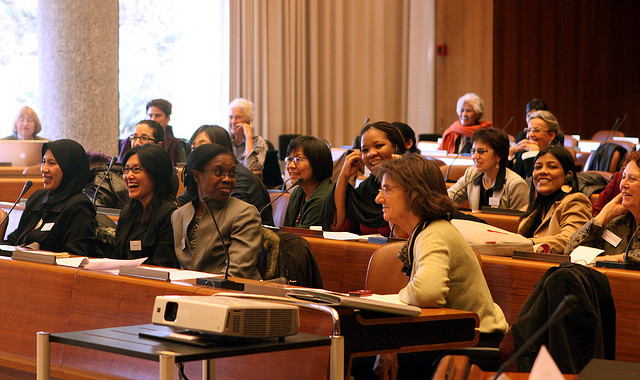 Women Human Rights Leaders at the Courage to Lead Summit in Geneva by US Mission Geneva (via Flickr Creative Commons).
First of all, she wouldn't let anyone interrupt her during meetings. If they did, she would interrupt right back with a polite but firm, "Excuse me, I'm not finished." She never started her sentences with "Sorry, but …" or "I just think …" Instead she would say what she thought, getting it all out. Then she would listen carefully and thoughtfully to other peoples' responses (often from men), and if need be, add to her argument to support it again. It wasn't that she would force her point over everyone else's, she simply preferred not to let her point go without hearing a good reason for why she should do so.
For the most part, it didn't seem that coworkers found her to be stand-offish. She somehow managed to avoid the categorization of being power-hungry and cold. Instead, everyone seemed to deeply value her opinion, and found her to be a staunch ally and loyal colleague. It didn't hurt that she was also tremendously funny. I laughed a lot around her.
Shortly after moving on from that job, I encountered advice from self-help expert Tara Mohr called 8 Ways Women Undermine Themselves With Their Words. I wish I could find the video interview that Mohr did with Jillian Michaels on the subject, since it animated each of Mohr's points. But at any rate, I remember watching the video and seeing myself in all of the handicaps that Mohr lays out.
Mohr says, for instance, that women are too quick to minimize their messages, through phrases like "I actually think there's another story here …" or "I just want to point out some complications …" She also notes how we often talk too fast, trying not to take up too much space during meetings, or how we may raise the tone of our voice at the end of many sentences to make them sound more like non-confrontational questions rather than opinions. I realized how rare it was to have had a female boss who seemed to have conquered these handicaps for herself, and counted myself incredibly fortunate to have been able to work with her.
Since learning of Mohr's advice, I've thought a lot about how I want to change my own speech patterns. Ideally I would love to stop using the word "just" at the start of my sentences, and speak louder and firmer during meetings run by men. But what I've learned in reality is that this is really, really hard. These are deeply ingrained habits that I've developed both in my own individual life, but also from seeing the collective self-presentations of thousands of women throughout the years–from friends, family, colleagues, media stars, etc., I've learned that my speech habits aren't something I can just will away with a changed mentality.
I've also learned that feeling guilty about my speech patterns doesn't really help to promote change. What has helped is being proactive about taking small, positive steps toward more assertive speech. Right now I'm taking a class on negotiations, which is helping me to role-play stressful situations of conflicting interests in a safe environment. I enjoy reading books about gender and introversion (another layer on top of gendered experiences with speech). I push myself more now to be better prepared at meetings, so that lack of knowledge and ideas won't be part of the reason why I'm tempted to minimize my voice.
I sense that gender is not a topic that comes up often in professional training for many fields, even among women. There are a number of understandable reasons for why we might see gender topics as taboo or unpleasant to bring to light. We might joke about them during downtime or talk about how we wish we had done better on some presentation or in some meeting, but we don't talk about the systematic ways women are alike in their speech and what that means for the workplace. Perhaps having more of these open conversations and a support system for personal progress would help.
I do not mean of course to draw pinpointed conclusions about every woman. Some people face more challenges with their speech patterns in work environments than others. Some women probably can't relate to Mohr's message at all. It is certainly not helpful to assume that all women are the same and all women are facing the same battles. The eight points that Mohr describes would be complicated further by bringing in intersectionalities of class, race, age, gender presentation, and physical ability, for instance. But I do find her words to be a helpful starting point for me in a personal quest toward fulfillment in the workplace, and I hope to continue reading other enlightening thoughts on the subject.
Originally posted at stefanicox.com.
This is an article written by a member of the SheKnows Community. The SheKnows editorial team has not edited, vetted or endorsed the content of this post.
Want to join our amazing community and share your own story? Sign up here.