This article was written by a member of the SheKnows Community. It has not been edited, vetted or reviewed by our editorial staff, and any opinions expressed herein are the writer's own.
Owning a business is like being the conductor of an orchestra.
The instruments can be tuned, the notes learned and the music played, all by the individual members, but to have the vision of oversight, to understand the whole piece and how the various parts are to be played together takes a leader with vision, foresight and timing.
Yes, timing. Knowing what to do when. When to push ahead. When to fall back. When to pursue opportunity and when to shut the door in its face. Timing and risk management are the two essential talents of a great conductor and good business person.
The movie Little Women was recast and released in 1994.
Sometimes one little click on a computer can lead to a whole new life. For instance, in November 2011, I was working on the back end of SunbonnetSmart.com, putting in the sales area to sell my e-products when I noticed a comment on one of my posts.
Cat Morrow, who has a wonderful organic food and natural lifestyle website, NeoHomesteading left a comment about my Your Family Cow source of raw milk post. And Cat was connected to something called BlogHer. One click of the mouse, looking at Cat's web site, then looking at BlogHer, changed my life forever.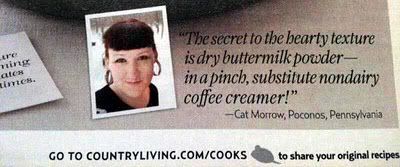 Cat Morrow of BlogHer's NeoHomesteading:her comment changed my life!
I read BlogHer and I read BlogHer, article after article, post after post and Chatter after Comment. I decided that BlogHer was the most amazing marketing tool I had ever seen, on the Internet or off. And that weekend in November, I made a big decision. I decided to orchestrate my business differently than I had planned. Being the owner of my business web site blog and entrepreneurial, I decided to conduct my symphony in a different way. I changed the score, the instruments and the musicians to put my energies in a different direction.
"It takes people a long time to learn the
difference between talent and genius,
especially ambitious young men and women.
Amy was learning this distinction through
much tribulation, for, mistaking enthusiasm
for inspiration, she attempted every branch
of art with youthful audacity."
The Wisdom of Little Women, p 24
I had lots going for me in that I was ambitious, but not a young woman. I knew well the difference between talent and genius. I also knew not to mistake enthusiasm for inspiration, that marketing products and ideas are two different things. And I recognized without a shadow of a doubt, with over thirty years of business experience behind me, that hooking my SunbonnetSmart cart up to BlogHer was a wise thing to do. And so, I put all of my energy into doing what I like to do best: nurturing women, networking and writing. I was like Little Women's Jo March in that:
"...when the writing fit came on, she gave
 herself up to it with entire abandon, and
led a blissful life, unconscious of want,
care or bad weather, while she sat safe
and happy in an imaginary world..."
The Wisdom of Little Women, p 24
I have been very happy in my BlogHer world, insulated by positive women leaving beautifully soulful Comments. But now, duty calls. I must now get back to my business and work to make a living in this recession-based whatever it is we are living in. Like Jo, I must work "by the magic of a pen" to turn comforts for us all. What I am saying is that I have the business experience and I see so much talent on BlogHer, I feel called to help those who are looking for a market and don't know how to get out there.
What got me thinking about all of this is, remember that back end of my web site that I was working on last November, well it's still there, just waiting until I get back to it. So, we have a sales interface all set up, waiting to go. A couple of weeks ago, when Isabel Anders was mentioning she wanted to expand awareness of her book, The Wisdom of Little Women, I told her that we could sell it on my web site in a turn key fashion, put it up and see what happens.
Now, having read The Wisdom of Little Women, I see all of us, those of us on BlogHer, as Little Women. We are all working hard to keep the home fires burning while the world is pictured as being in turmoil. In an instant it hit me that we can work together, like the March family did, to weather our storms.
And that, afterall is the premise behind Sunbonnet Smart. Incredible women doing incredible things with next to nothing or as we say in business, low overhead with passive fulfillment.  :)
The Wisdom of Little Women is a popularitem at the Orchard House Museum Gift Shop.
Throughout this thinking process of the last couple of weeks, culminating with actually meeting the three BlogHers, Chelsey, Sabrina and Carol, in New York City, I have decided I would like to publish e-books and I'm throwing my sunbonnet into the ring. Why not turn my web site into an outlet for anyone on BlogHer that is interested in getting their book out on the web? First, I'm going to do some baby projects to make sure the whole system is working correctly.
I believe we can have the same fun we are having now, but help supplement our incomes as well, for those who are interested.
Listen to Grammy Sunbonnet when she says,"We're not going to get by on our good looks alone."
Orchard House, the home of Little Women in the book, and theAlcott family in real life, is now a museum in Concord, MA. Theirgift store sells Isabel's book, The Wisdom of Little Women.
Say, BlogHers, can't you take a hint?
Let me know what you think of this. I am counting the seconds
while waiting to hear from you in the Comments below.
Submission guidelines and more information to follow.
Isabel's book should be up for sale this weekend or the begining
of next week. I'm finishing up the back end of the sales area.
To see the layout as it is now, click on the bunny.

SunbonnetSmart.com is authored by a little bird who loves to lure unsuspecting BlogHer bloggers to her web site.