Actually Mummy...
Dear Mummy, stop being such a perfectionist! You have blogged every day for 25 days. You do not have to do another 5. Enough is enough! If you are bored your readers are probably bored too. Your writing has suffered, your photo files are a mess, we have been surviving on pizza. Stop it! Love from GG. PS – we would like you to play with us….

Dear GG, I can't stop, I will feel like a failure. And to give up 5 days before the end – can't do it. Even though I know that I am not posting my best writing. Even though I am annoying everyone on twitter with my constant self-promotion. Even though there is a yawn instead of a ping whenever my posts hit the inbox. I wish I could just walk away, but I can't… Love, the Mummy that will shortly be needing a new glasses prescription.

Dear Books, Mummy still loves you, is well-aware of the due date at the library, and promises to get back to you soon, if she can quell the rising panic about her 'to-post' list. Love, the one who could never undertstand choosing to blog over reading.

Dear Self, Go to bed tonight. Without the computer. Leave the iPhone downstairs. Get some sleep. And read a book. NaBloPoMo has not made you a better writer. Come back in a week and write something really good instead. Love, the inner writer who is far too zombied to continue.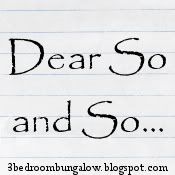 We were inspired to write today by Dear So and So at 3 Bedroom Bungalow. Will we be inspired tomorrow?
Mummy has been joining in with with NaBloPoMo at Britmums and BlogHer, meaning that she has to write a blog post every day for the month of November. Yeah right, 'cos she has, like, so much time on her hands
Please don't unsubscribe – normal patchy service will resume in oooh, about 5 days time. In fact, you may not see us for a bit!

This is an article written by a member of the SheKnows Community. The SheKnows editorial team has not edited, vetted or endorsed the content of this post.
Want to join our amazing community and share your own story? Sign up here.