My husband and I recently traveled to San Jose, California by train to attend the BlogHer14 convention. I'll write more about the convention soon, but before that, I wanted to give you a few tips about traveling by long-distance train in the United States.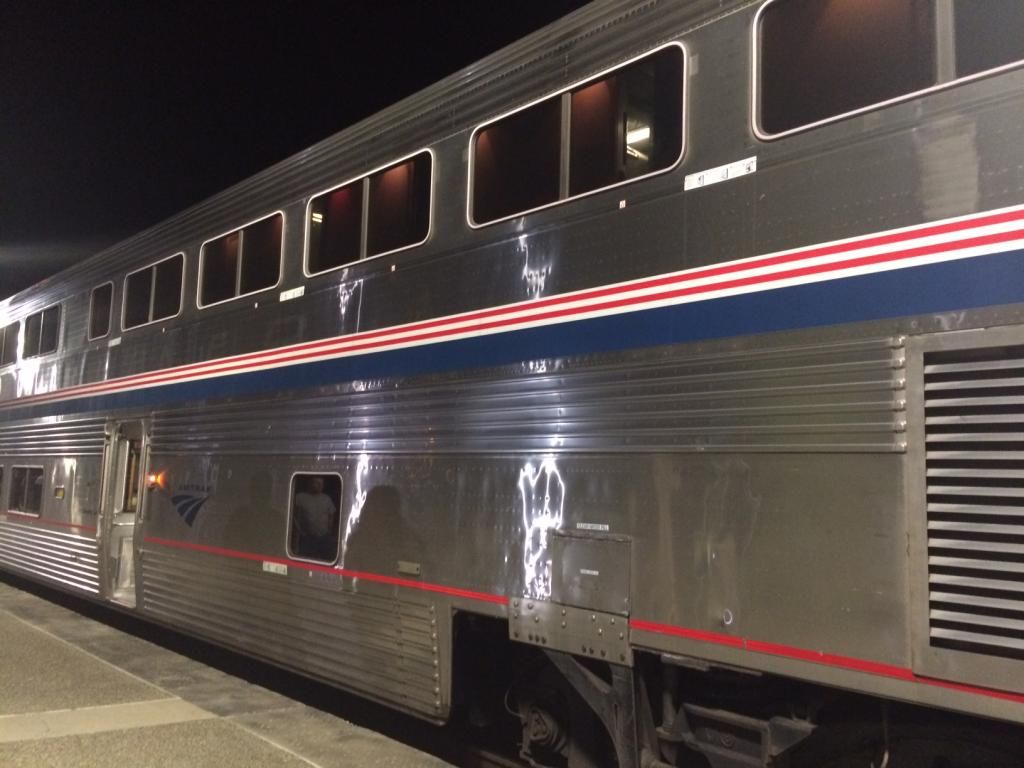 We took the California Zephyr from Chicago to Emeryville, California (not far from San Francisco and San Jose), and then we flew to Seattle and boarded the Empire Builder back to Chicago. Here's what I learned.
 If you're a college student, traveling alone or in a group, you might be able to get enough sleep in a reclining coach seat, using your backpack as a pillow. Coach tickets do not include food, so you must bring yours along or buy snacks and meals in the club car or dining room. Bathrooms and showers are shared – they are small, but not too awful. Think about an airplane restroom, and you have an idea of the space in the train loo. The trip from Chicago to the coast takes three days in each direction, assuming the train is running on time. (More on that below.) Choose your sleeping accommodations wisely. There are three main options that you can consider.
 The next option up is a "roomette": a small compartment about six by three feet, with two facing seats that recline into a bed of sorts and a bunk bed that folds down from the ceiling. If you are traveling alone, with little luggage, you are not very tall or wide, and you do not have an issue with claustrophobia, this might be a good option for you. Roomettes include three meals a day, unlimited coffee, water, and juice, and porter service (an attendant who makes the beds up, provides you with towels, pillows, and other comfort-based needs, delivers food to your compartment if you wish to dine there, and generally provides advice). Bathrooms and showers are shared. My husband and I traveled to California in a roomette, and we frankly found the compartment too small for our needs.
 On the way back from California, we upgraded to a "deluxe room," which has wider beds, a closet, an en-suite toilet and shower, and a wide viewing window. The deluxe room also had space for our luggage, whereas we had to keep the luggage on a hallway rack when we were in the roomette. Porter service and meals are also included in a deluxe room, and a "family room," which includes a fold-out child-sized bed, is also available for a slightly higher fee.
Travel as lightly as possible. You will not be subject to the same luggage restrictions as you'd have on a plane, but you will not have a lot of room to store the items you bring. Unless you want big bags underfoot all the time, leave them at home. And don't worry about theft if you are staying in a compartment; Michele, our porter on the Zephyr, told us she'd been on the job for twenty years and had never had an issue with laptops, phones, or other valuables wandering.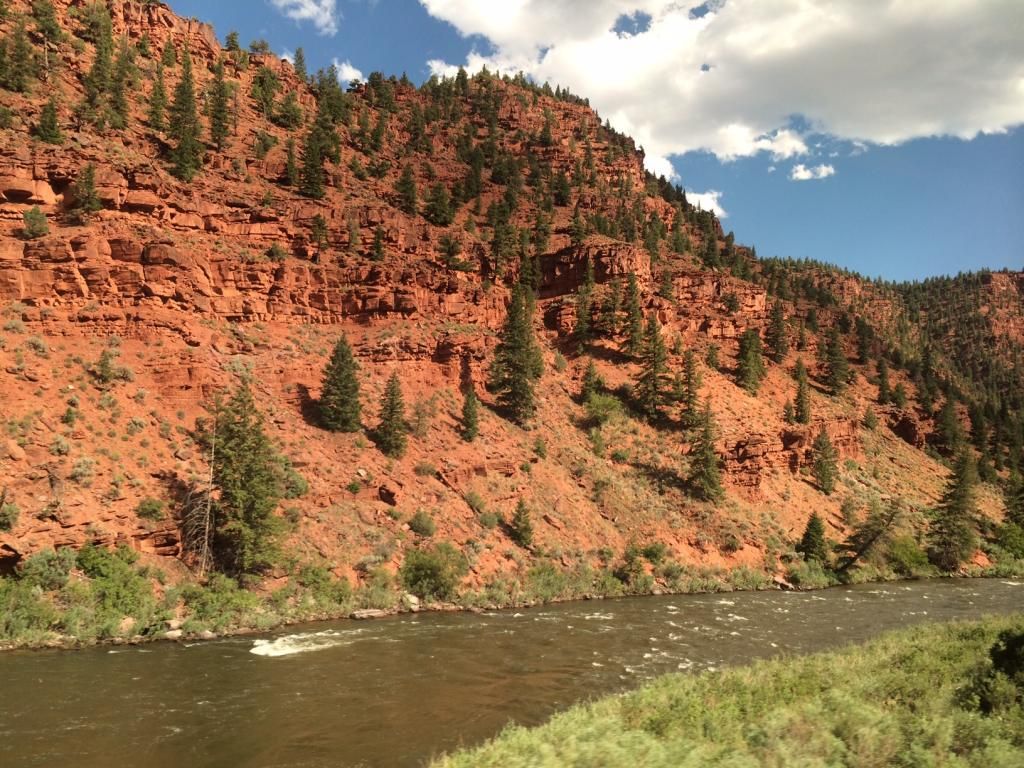 The trains stop, but not long enough for you to do anything but stretch your legs for a moment on the platform. Bring with you everything you will need: your usual toiletries, including shampoo and toothpaste, medications, diapers and sanitary supplies, if necessary, and any food you can't live without. The staff will help you as much as it can, but its onboard resources are limited. Do not bring towels, blankets, or pillows. Your porter will supply these items, and they're perfectly acceptable, so don't waste precious luggage space.
Give yourself plenty of time. This is not a mode of transportation that lends itself to people who are in a hurry. The weather and track conditions will influence the train's punctuality. Delays of hours and sometimes even days can occur, though they are infrequent. Be flexible.
 Breakfast, lunch, and dinner are served in the dining car and are included with all sleeper car accommodations. A snack bar operates from early morning to late at night, offering sandwiches, chips, beverages, and small entertainment items (like decks of cards) at an additional cost. The dining car menu is limited but includes healthy options and items for children.
 If you dine in the dining car, you will be given a reservation time and seated with fellow travelers, just as if you were on a cruise. This is a great opportunity to get to know your neighbors, but if you're an introvert or someone who doesn't chat well with a wide variety of people, some of whom can be very different from you, be forewarned. We had wonderful conversations with a fracker from North Dakota, a little girl traveling with her grandma, an English couple and their three teenaged sons, an Amish couple from rural Indiana, and a single gay man from Chicago. Prepare to make friends, We got business cards from all of these people and look forward to staying in touch.
 Lastly, bring a camera, something to read, and your portable hobby. There's a lot of time to be spent just relaxing, either in your own seat or in the wide-windowed sightseeing car. Cell signals are few and far between, so your phone and MiFi will work only sporadically, and the train does not provide its own internet service. In the long stretches between towns, I knitted, read, played Scattergories with my husband, slept, and chatted with my new friends. Most of all, I gaped at the mountains, rivers, gorges, and prairies: those are the reasons, after all, that one travels this way, and if you yearn for breathtaking scenery, you will not be disappointed.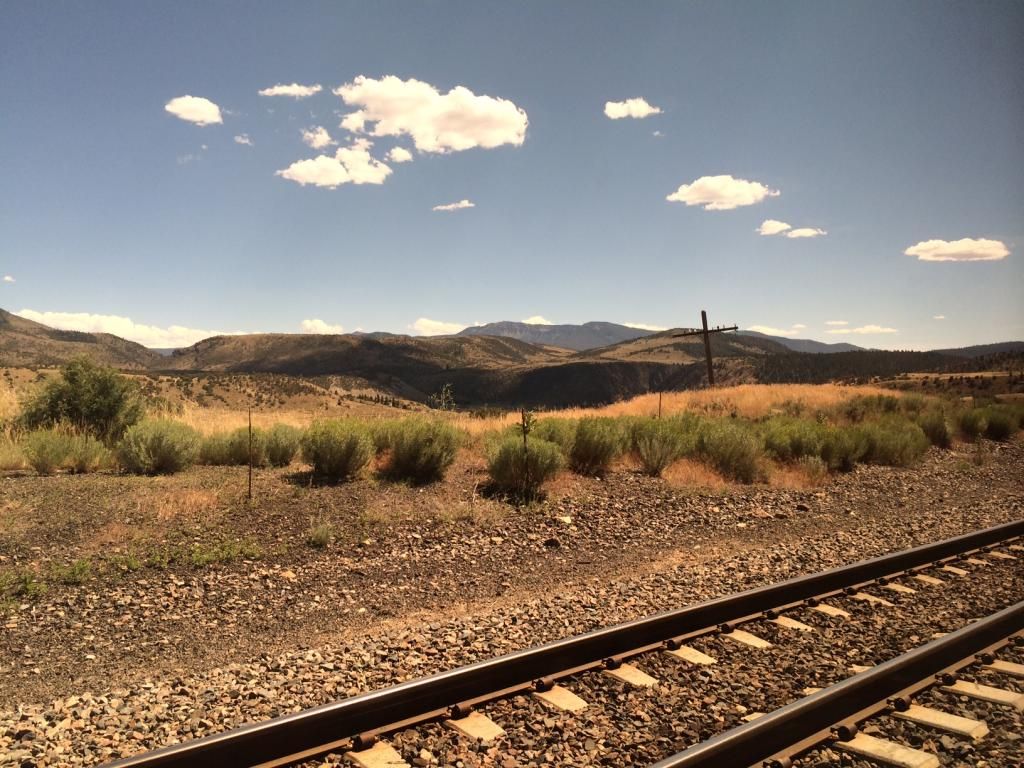 This is an article written by a member of the SheKnows Community. The SheKnows editorial team has not edited, vetted or endorsed the content of this post.
Want to join our amazing community and share your own story? Sign up here.