There are some occasional good things about being a commercialized society and one of them is that tons of places want your birthday business. You know the drill - sign up for their membership whatever group and you get coupons and other advertising year round, with the bonus of a nice birthday freebie. Some are pretty awesome and some are chintzy as get out. The awesome ones make me want to return because I appreciate feeling special.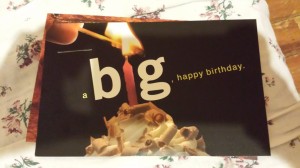 Yes, it is consumerist and I feel a bit of "ick" discussing this - in real life, the conversation would include pointed references to how much I do spend on these outings and that I don't cheapen the tip and other guilt-assuaging rationalization. God forbid I allow myself to feel special without agonizing over labor laws. 
The offers I usually receive & redeem
NOTE: I live in Pittsburgh so some of these may not apply to your neck of the woods
Big Burrito Group - free entree
Double Wide Grill - free entree
Six Penn Kitchen  - free entree
Atria's - free entree
Red Robin - free burger and fries
I also usually get some sort of free ice cream treat from Baskin & Robbins, Brusters, etc.
Eat n Park sends a free dessert.
Starbucks sends a free drink via my registered card.
PF Changs sends a free dessert.
Now I appreciate a gift, don't get me wrong. But some stand out and that includes
an electronic redemption offer
a longer redemption period
entree/appetizer versus dessert
I'm less likely to spend $40 on a meal to get a free dessert than I am to go for an entree. That's just being real. And of course when I go for that entree, Ledcat order her own and we sometimes enjoy an appetizer as well as non-alcoholic drinks. They make their money and when you add in the PR from me tweeting/Facebooking about my dining adventure, I feel like an entree is a fair trade.
If I were going to wave a magic wand and select what other businesses I'd like to see offer birthday rewards
Priory Fine Pastries (or other bakeries) It would urge me to buy a cake there and get my treat rather than take the easy way out and go to Giant Eagle which does have a DELICIOUS bakery.
Crazy Mocha - keep it simple until they have a more formal eprogram. Show your ID with your birthday, get a free plain cup of coffee or tea. The odds of someone hitting up more than 2 CM's in one day are very slight.
Carnegie Library makes our birthday a "forgiveness day" for ourstanding fines. That would be cool.
The Food Trucks.
Farmer's Market - a birthday voucher redeemable for say $3 in tokens
More indie restaurants. I know its a loss leader and a pain to manage, but it got me in the door at the Doublewide and we dine there regularly (for us) and usually with guests.
A Pittsburgh site that tracks Pgh birthday goodness and other deals for food trucks, local chains and indie businesss.
The Cultural Trust offering vouchers for perhaps limited options.
Giant Eagle making a donation to the Food Bank in my name on my birthday if I shop that day and use  my Advantage card.
Offer me a choice of dessert or appetizer. I don't want dessert at a Chinese restaurant, but I'd love dumplings.
To find your own freebies, just google. There are several sites that track national offers.
Check these sites (and leave other in the comments please)
It might also be interesting for the business section of the local paper to explore the business side of this frenzy,  or perhaps have your alt weekly paper let readers vote on our favorite birthday freebie.
What "freebie" would you create if you had the opportunity?
This is an article written by a member of the SheKnows Community. The SheKnows editorial team has not edited, vetted or endorsed the content of this post.
Want to join our amazing community and share your own story? Sign up here.