A few years ago, I was a college student and Mother to two children. My youngest was a mere three months old when classes started. I was lucky enough to enroll both children in the child care center on the college campus, which was also the practiculum site for the Early Childhood Education students.
This meant I could visit my daughter between classes and work to breastfeed her. Sometimes she wasn't hungry and I would pump breastmilk for her instead. The child center staff would then give her my milk in a bottle/cup when she was hungry.
I attended that college for two years and as you can imagine during that length of time, my children were sick sometimes. The center had a strict no sick child policy, as most child care centers do. My husband was (and still is) a long haul trucker and was not available to watch the children so I could attend class or go to work if they were sick.
This meant that sometimes I did miss class or work. Once, my daughter was sick with a cold & not allowed to go to the center. However, that particular day I had a Medical Assistant class I could not miss. It was a lab and there were no make ups allowed. So what did I do?
I simply went to class and brought her along. I explained the situation to my teacher and assured her that I would take my daughter outside if she became disruptive. My teacher was fine with my request, as well as my class mates.
So what happened you ask? Not much. Class went as planned. My daughter needed to breastfeed a few times, so she did. I kept as much of my breast covered as possible, like I always do. During one of the lab excercises, my daughter was even a mock patient for a well child exam.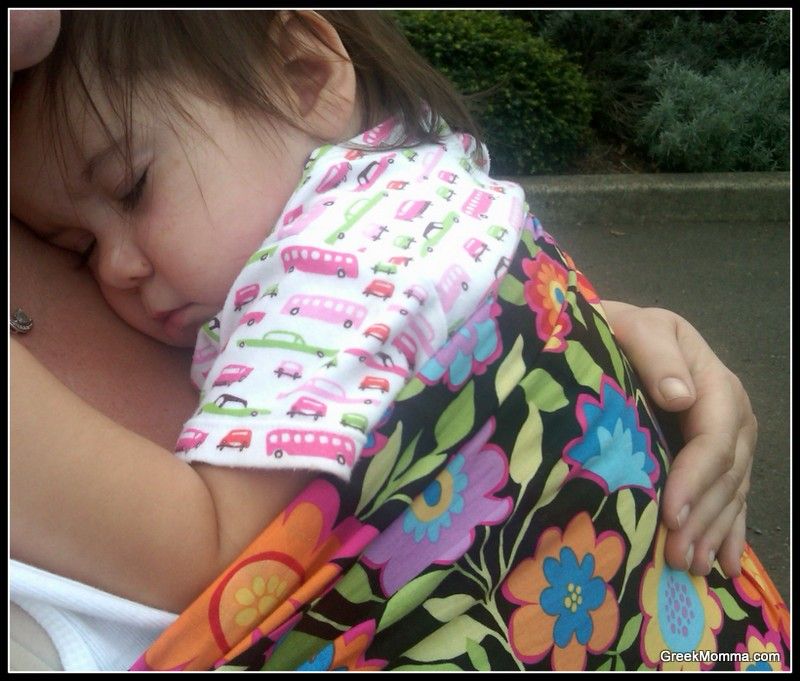 I don't remember a single complaint from a class mate of mine. In my opinion, I was doing my job as a student to show up and participate in class. I was doing my job as a Mother to provide the best possible care for my child. I was also doing my part as a responsible citizen and respecting the sick child policy at the child care center.
My daughter had a simple cold and there was never a question in my mind that I was exposing any of my class mates to a cold virus their fully developed immune systems could not handle.
That is the way it should be, in my opinion.
However, that is not always the case.
Just a few weeks ago, a mother, who also happens to be an Anthropolgy Professor, brought her sick baby to work with her. The Professor could have cancelled class, right? Well it was the first day of class. With a new TA. The class was "Sex, Gender Culture". So yeah, the Professor breastfed her baby while teaching her class.
So what?
Did breastfeeding prevent her from doing her job? Did it inhibit the ability of her students to learn? Was it such a big deal that the college newspaper need to write an article about the "incident"?
Apparently some people think so.There are reports all over the internet and outcries that the Professor be reprimanded.
"At least Have the decency to step outside of class" -Dan Nguyen
"Yes, it IS a natural thing but have a little class to not do it where people feel uncomfortable." -Nicole Denmeade
Here is an article from Adrienne Pine herself, Assistant Professor of Anthropology at American University, regarding this issue. Professor Pine explains her actions fully and ends by stating this; 
I fed my sick baby during feminist anthropology class without disrupting the lecture so as to n(o)t have to cancel the first day of class. I doubt anyone saw my nipple, because I'm pretty good at covering it. But if they did, they now know that I too, a university professor, like them, have nipples. Or at least that I have one.
Some people are even complaining that Professor Pine put her child at risk by exposing her to more germs from the college students. Really, people? I sincerely doubt that she passed her baby around and asked her students to share bodily fluids with her.
I find it really sad that it has gone this far. Does the newspaper at American University really have nothing better to write about?
The University newspaper editor thinks so. In this letter, he defends the decision to consider this a newsworthy item. According to him, the newspaper thought "an unknown professor was under administrative review for breast-feeding in class", however there has been no confirmation of this claim.
I think this is a lesson that falls right in line with what the Professor is teaching . An real-life example of the gender culture that currently exists in America and the nipplephobia that is representative of our Purtitanical values.
Wake up America, they are just nipples.
This is an article written by one of the incredible members of the SheKnows Community. The SheKnows editorial team has not edited, vetted or endorsed the content of this post.
Want to join our amazing community and share your own story? Sign up here.