I recently returned from a DREAM Kissimmee, Florida #RockYourVacation press trip with the amazing team at Experience Kissimmee.
Most people, when they think of Kissimmee, they think of Disney. But oh - Kissimmee is SO MUCH MORE!
Kissimmee is relaxing, invigorating, exhilarating, breathtaking, and again SO MUCH MORE!
In addition to the "main attraction" there is Gatorland, Medieval Times, SeaWorld, Hot Air Balloon rides, Wild Florida, Orlando Premium Outlets, Chocolate Kingdom, Fun Spot USA and again SO MUCH MORE!
This is part one of my Experience Kissimmee blog series. I will be sharing fun adventurous suggestions for your next trip to Central Florida. Today I'm talking all about Gatorland!
GATORLAND Screamin' Gator Zip Line

I strongly recommend starting your Kissimmee experience with a fun soaring adventure at the Screamin' Gator Zip Line in Gatorland. My heart was pounding when I left the first launch pad, but then I quickly realized zip-lining over alligators was definitely more fun than scary (yes, there were over one hundred giant alligators below me).
I launched from heights of up to 65 feet, soared across five super fun zip lines ranging in length from 230 feet to more than 500 feet, and crossed a swinging bridge (which, by far, was the only truly scary part of this adventure). The entire experience was exhilarating, refreshing, and genuinely FUN. Our highly trained and super funny guides made the experience even better.

Flight times are available daily; reservations are required. Click here to book your adventure today!
Wrestling an Alligator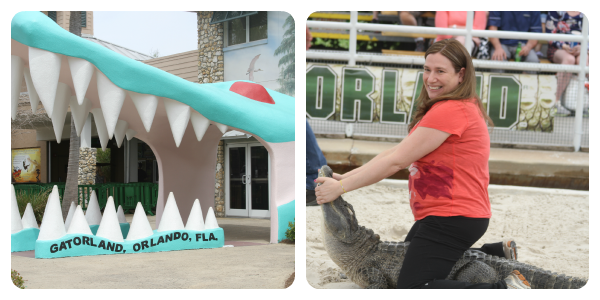 Yep. That's me wrestling one of the most feared creatures in the world. Yep. This gator has is nine feet long with 82 razor sharp teeth... not to mention the other twelve alligators swimming around me! Fun? Yes, it was actually pretty cool to be that close to a gator. Do I love the idea that this poor little gator has to live his life with people sitting on it? No so much. Reservations are not required for this experience. You can purchase tickets at any time while visiting Gatorland.
Another Wildlife
In addition to alligators, Gatorland is also home to raccoons, birds, bobcats, scorpions, pythons, panthers, boa constrictors, rattlesnakes, white-tailed deer, American Crocodiles, and more.

And even tarantulas!
According to Gatorland.com..
Gatorland is a 110-acre theme park and wildlife preserve, combining "Old Florida" charm with exciting new exhibits and entertainment. The park opened as a roadside attraction in 1949. Today, it provides affordable-priced family fun with thousands of alligators, crocodiles, an aviary, breeding marsh with observation tower, petting zoo, nature walk, educational wildlife programs, Gatorland award-winning gift shop, Florida's best train-ride, restaurant, Gator Gully Splash Park and one-of-a-kind reptilian shows including the Gator Wrestlin' Show, Gator Jumparoo and the Up-close Encounters Show. And, don't miss the world's largest collection of giant white alligators in the new White Gator Swamp and the all new Screamin' Gator Zip Line featuring over 1,200 feet of high flying thrills, five intense zip lines and a massive 150 ft. suspension bridge.
To find out more about "Orlando's only Theme Park with Bite and Attitude," visit Gatorland.com or call 1-800-393-JAWS. And click here for a $2.50 off coupon for adult general admission.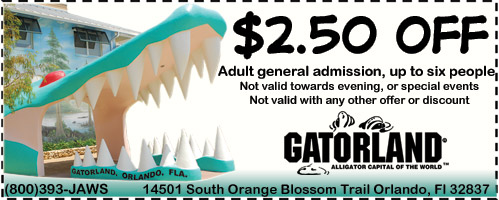 You can also check out the Gatorland webcam here.
In Joy,
Stacey
Stacey Hoffer Weckstein
Creating + managing virtual circles and social media communities that have the power to create personal + social change.

This is an article written by a member of the SheKnows Community. The SheKnows editorial team has not edited, vetted or endorsed the content of this post.
Want to join our amazing community and share your own story? Sign up here.