Last month, I attended a LGBTA event at my college called "Out on the quad."It was mostly games and integration, but in the middle of the noise I managed to eavesdrop on a teacher being interviewed about the event. I missed the question but I listened closely to his answer: "It's not the colors, it's not the bubbles, it is the visibility. We are telling Brooklyn College that we are here."
Those words spoke to me.
I have been thinking about my own invisibility as gay and how annoying coming out constantly can get. However, I realize that the more people who come out in a given community, the easier it becomes for the rest of us to do so. 
We cannot stress this point enough. It has actually been proven that people who know someone gay are more tolerant and accepting than people who don't. And that is just the population in general. In the gay community, the repercussions of becoming visible are even greater.  Most of us grow up surrounded by heterosexual people and norms; some don't even know any gay people. In the process of coming out, we need models to follow and to reflect what life is like as an openly gay person. It is important to know people (or about people) who are openly gay and living a fulfilling life.
Caption: Sept. 23, 2012 - Los Angeles, California, USA - Ellen Degeneres and Portia de Rossi at the 64th Annual Primetime Emmy Awards held at the Nokia Theatre L.A. LIVE on Sunday, September 23, 2012 in Los Angeles, California. (Credit Image: © Javier Rojas/Prensa Internacional/ZUMAPRESS.com)
During my coming out process, I accidentally found my model.  In those days I used to do lots of research on lesbian lingo. Words like stud, boi, lipstick lesbian held no meaning for me, and the Internet enlightened me. One day, when I desperately needed to know what a "pillow princess" was, a blogger stood out from the crowd. Her name is Sasha Lotrian, and I've been a faithful reader ever since. She writes about a variety of themes, from her love for the butch-femme dynamic to her struggle with bipolar disorder. She can be very funny and sensual in her posts, but she makes sure to approach important subjects with the necessary respect. Her blog is called Card Carrying Lesbian, which she defines as "any woman that openly identifies as a lesbian…100% lesbian."
Getting to know Sasha through her blog opened up a whole new array of possibilities for me. She talks about her super lesbian life with such simplicity that it made me realize I was normal. She's an ethnic minority (half-Samoan), and comes from a religious family (Mormon), a combination that, sadly, makes it even harder for gay people to come out, but that made me feel "not alone" in my struggle through gaydom.  She becomes relatable by portraying a self that is both fabulous and flawed--like all human beings.
She has impacted the lives of many women by being visible. I love her approach because her experience reflects mine. We struggle to belong in our own community because we don't "look" gay.  So we have to "act" the part while women in the masculine spectrum just walk into a room and steal all the lesbian glances. I've actually been told that I look like a breeder in the middle of pride!
But Sasha in her gayelle creativity came up with her own solution to the invisibility problem: she wears a tag. Literally. 
She designed her own jewelry line for lesbians, because she "wasn't willing to cut [her] hair and get a tattoo just to fit into a social group that [she] already belong[s] to." So she created a way to label herself as part of the community and in the process became a pretty successful entrepreneur.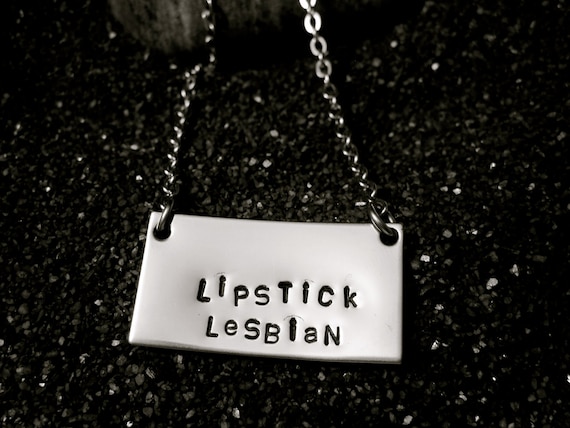 Her jewelry line is hosted on Etsy. It consists of hand- pressed stainless steel tags with lesbian labels. (If you have to do any explaining after wearing one of these, you must be around some really dumb people.) Some of her pieces have been highlighted in Curve Magazine, Afterellen.com and other sites. 
I admire her creative and productive idea to be more visible as a lesbian. And I think the success of her jewelry illustrates just how much people in the community need to be "seen" by others as their full selves. It's also a classy alternative to wearing a bunch of rainbow paraphernalia--something you can wear to work or the doctor, or even church. What I like the most about the idea is that it makes you visible immediately, without having to say a word.
I've learned over the years of reading gay bloggers that achieving a certain level of visibility will make us stronger as a community. The internet is a powerful tool that can help us deliver the freeing truth: that it's ok to be gay, all the way to the darkest of closets. We must therefore become the brightest light for those who need to see us out and proud.
This is an article written by a member of the SheKnows Community. The SheKnows editorial team has not edited, vetted or endorsed the content of this post.
Want to join our amazing community and share your own story? Sign up here.