There's something special about mommyfriends. I've blogged before about my group of mommypals, you may remember, we call ourselves the MILFs.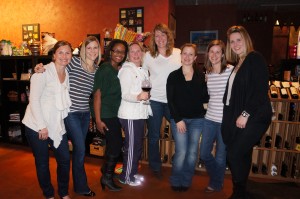 My MILFs
Well we've known each other for roughly four years and early on, we were pretty tight, even had a girls weekend in Wisconsin. But over time, with changing jobs, growing families, ailing elders, swim lessons, soccer games, T-ball and ballet, we'd gotten lost in the demands of our lives.
Trying to get a Girls Night Out going seemed like a fruitless effort as out of the eight of us, only one or two could make it. That would result in disappointment all around.
I would still regularly talk, text, email and Facebook with most of the MILFs and a few girls continued to hang out with each other, but it's been a long time since it was all eight. And every time I talked to a MILF they would say how they desperately needed a night out.
I agreed, but didn't want to have just a regular night of drinking, I wanted to do something special.
We needed to do something to celebrate our friendship, because I've been to a few other mommy groups and they are nowhere near as awesome as my MILFs. They've got one too many "Mombots." (Robot-like mommies with zero personality.)
I picked a special spot to host us, Tuscan Market and Wine Shop. I love wine and I love food and this place is teeming with both. Plus it's cozy, unpretentious and a great place to hang with friends.
Next, I scheduled it so all eight could come. I tried to take away any excuse to miss out and I tried to build up a little mystique by saying I had planned "something special."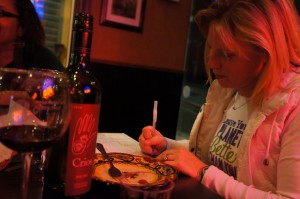 See, the problem with some of our GNOs is that we often spend much of the time talking about our kids. While yes, we all want to know what the others' munchkins are up to, whether we're going through the same struggles, yaddayaddayadda. However, after a bit of that, it's time to move on to other topics. We are more than our children. This is our time away from our kids, this is our time, so let's talk about us!
As much as I hate playing stupid games, I figured I'd Google for some clever ones that would give each other more non-kid related insight to ourselves or at least make us laugh.
This game-playing thing is not my comfort area, so I reached out to one of the MILFs, who's done these touchy-feely team-building things for her job. I also thought it'd be great to use some of the swag I'd gotten at recent blogging events as giveaways to the game winners.
It was a Wednesday night and me and a MILF arrived a smidge early. I needed to set the table up with the goodie bags of chocolate I'd made. The first game was that we had to write on a piece of paper something no one at the table knew. That resulted in stories that ranged from the hilarious: the police caught one MILF literally with her pants down schtooping her then-boyfriend (now husband) in a parking lot. Others were more serious, like being a scared high schooler who skipped school one day to drive her friend to the abortion clinic.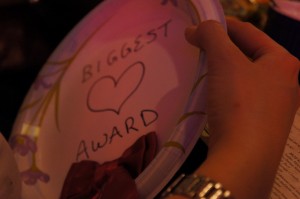 We did another game, that was a fill-in-the-blank type thing and then came my favorite part. The Paper Plate Awards.
I'm not crafty so don't judge on the quality, but I created these awards for each MILF. Before handing them out, I briefly told each girl why she's special to me. Toward the end, I found myself getting unnaturally verklempt and a couple of them were blinking back tears too.
I didn't mean to slip into the Land of Sap, but alas there I was. I made it through without crying and we finished out the rest of the evening catching up on each others lives, (kids and all) and devouring insanely scrumptious appetizers and pizzas.
I'm working on the MILF night for next month, but I've told the girls not to expect anything special, I simply felt we needed to breathe a little life into our amazing friendships and remind ourselves how lucky we are to have one another.
*Photos by Ginny Washburne.
This is an article written by a member of the SheKnows Community. The SheKnows editorial team has not edited, vetted or endorsed the content of this post.
Want to join our amazing community and share your own story? Sign up here.