This article was written by a member of the SheKnows Community. It has not been edited, vetted or reviewed by our editorial staff, and any opinions expressed herein are the writer's own.
We all have something we appreciate so much that we keep way too many of them. Maybe we aren't collectors-by-intention, but we look around and it's turned out that way. For my friend, Pam, it was sofas.  She once owned a whole bunch of sofas. She had plenty of room for them, since she lived in a big old flat in Boston's Back Bay.  From there she moved to an even bigger Maine farmhouse, where sofas kept following her home. Later, when she downsized into a smaller place in Massachusetts, she jettisoned some sofas, but I've lost count of how many chairs she lives with.  They're all welcoming and well-loved, and there are lots of them.  
I recently emerged from an unintentional small-table phase. One day I woke up owning too many tables, so I gave some away and sold some.  I don't miss the tables that left my house, but I'm not planning to eliminate any of my lamps. I love old lamps and one day realized I must also feel the same way about old necklaces, since there are several of both around. Here are some of the lamps and the necklaces they wear.
In the entryway, it's Floor Lamp With Peace Sign. This peace sign is the real deal from the '60's, when I wore it with miniskirts and go-go boots and way too much eyeliner.
Here's a candlestick lamp wearing a heart given to me by daughter, Cathleen.
Here's the long gold chain that my Grand, Caedan Ray, plucked from a tangle of costume jewelry given to her by mommy's lovely friend, Ariel, for playing dress-up. Caedan, ever-generous (except when a rhinestone-encrusted Hello Kitty necklace is involved) chose something for her mom, and then she gave me the chain.  I wear it often, and share it with the floor lamp. (Full disclosure, I had my eye on Hello Kitty too, but Caedan never let it out of her sight.)
Sueann and I found this striped lampshade at a thrift shop before Christmas and it's so festive it's stayed around. The crystal heart necklace was tangled up in my jewelry box for decades.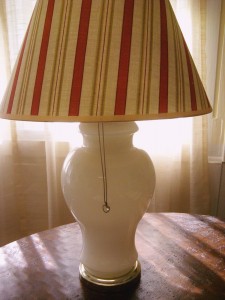 This gorgeously dissolute lamp with the mysterious dents and dings came from a thrift shop and the beaded shade is from a church rummage sale. The old jeweled cross recently borrowed a new black fabric cord from my jewel box.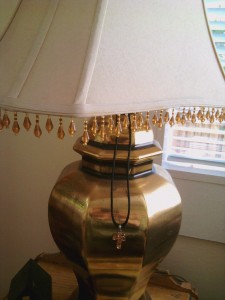 The wooden table lamp wears a circle with blue stones.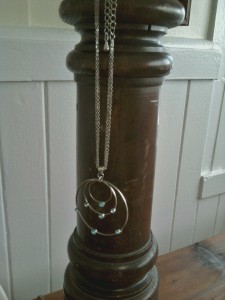 This odd blue floor lamp wears a hammered sterling silver heart, a birthday gift from Peter and Sandra. On the same chain, an initial charm from a former flame.
This wooden floor lamp, meant for a child's room, is still the one that's easiest to pull up next to a favorite reading chair. It wears vintage yellow beads from an antique shop in Rhinebeck, New York.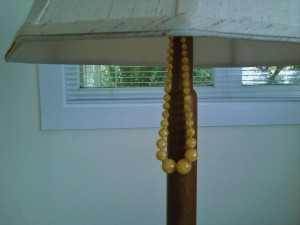 I'm not calling this gathering of lamps or these necklaces a collection, but I will defend their numbers by saying the lamps keep the necklaces tangle-free and the necklaces dress up the lamps. For now, there's no room for more, but I wouldn't say never.