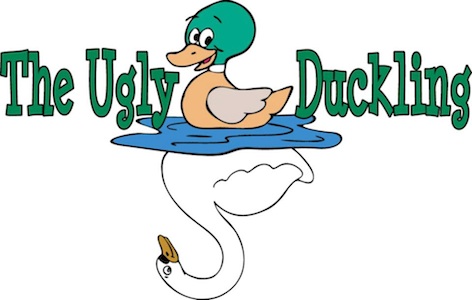 Normal
0


false
false
false







MicrosoftInternetExplorer4


/* Style Definitions */ table.MsoNormalTable {mso-style-name:"Table Normal"; mso-tstyle-rowband-size:0; mso-tstyle-colband-size:0; mso-style-noshow:yes; mso-style-parent:""; mso-padding-alt:0in 5.4pt 0in 5.4pt; mso-para-margin:0in; mso-para-margin-bottom:.0001pt; mso-pagination:widow-orphan; font-size:10.0pt; font-family:"Times New Roman"; mso-ansi-language:#0400; mso-fareast-language:#0400; mso-bidi-language:#0400;}
The ugly duckling by Hans Christian Anderson tells the tale of a duckling born into a world where he didn't fit in. He was taunted, teased and tormented by those in his world (family included).He finally couldn't take it anymore and left venturing out into the cold harsh winter. Come springtime he came upon these beautiful and majestic birds. Due to how he was treated in the past he feared approaching the birds. He finally decided to go for it and didn't care if they harmed him. As he approached the birds they welcomed him with outstretched wings. The duckling was fearful and looking down into the water said "kill me". The duckling had seen his reflection in the water and what was looking up at him was not a dark ugly bird but a beautiful swan.
Bullies we are told to ignore them, stand up for ourselves, don't make yourself a target. They will back down, they will leave you alone. I don't know if these witty retorts are still around but we had sticks and stones may break my bones but names will never hurt me and my favorite I am rubber you are glue whatever you say bounces off of me and unto you. It seems to me society is quite hypocritical when it comes to bullies. They say respect each other's individuality yet what they do contradicts this message. The battle of claiming our individuality seems to still be raging. Today's technology takes bullying to a whole other level. My heart breaks for those the world has lost as a result of bullying.
I can relate to the ugly duckling he was beaten by the hens, birds & people making fun of him wherever he went, family members tormenting him. I had and have my fair share of hens, birds, people, and family members "teasing" and tormenting me. Like the ugly duckling I attempted to leave. I learned how to hide in plain sight, figuring out what the best course of action was, avoiding, tuning out, etc. Bullies do not go away when you become an adult. However as an adult your world opens, your horizons broaden and you meet so many like minded people. As an adult you have choices that you may not have had as a child. As an adult you can "manage" them better. As the great Dr. Seuss says why fit in when you were born to stand out. The wounds from being a target for bullies still run deep, names do hurt and sometimes things get stuck to rubber. But like the ugly duckling I have discovered I am a beautiful swan.
I give god all the glory for my making it through the other side, no matter what was going on there was one person to encourage me, every so often a quick flash of a "normal" family, a friend like me etc. As I run my race I will hold onto these truths:
©       I will not be afraid of ten thousands of people who have set themselves against me round about—Psalm 3:6
©       The Lord God lights my lamp and illumines my darkness by him I can run upon a troop and by my faithful God, I will leap over a wall. God's way is perfect. His word proves true. He is my shield. I take refuge in him.-Psalm 18:28-30
©       He will give me beauty for ashes, oil of joy instead of mourning, a mantle of praise instead of a heavy, burdened, failing spirit. I will be called an oak of righteousness a planting of the Lord and God will be glorified.—Isaiah 61:3
©       I will demolish all arguments and strongholds and every pretention that sets itself up against the knowledge of God. I will take captive every thought and make it obedient to Christ.—2Corinthians 10:5
©       The Lord is my father, I am the clay and he is the potter. I am a work of his hands—Isaiah 64:8
Finally to my fellow travelers, being bullied sucks and it is painful. I have learned it isn't personal yet it is difficult not to take in personally. I learned it is them although it's not my problem they are miserable. I have learned there is always a light and sometimes you find it where you least expect it. I have learned people like me because I AM UNIQUE!!...and most importantly I learned at the end of the day the only approval I have ever needed was God's…
This is an article written by one of the incredible members of the SheKnows Community. The SheKnows editorial team has not edited, vetted or endorsed the content of this post.
Want to join our amazing community and share your own story? Sign up here.