This article was written by a member of the SheKnows Community. It has not been edited, vetted or reviewed by our editorial staff, and any opinions expressed herein are the writer's own.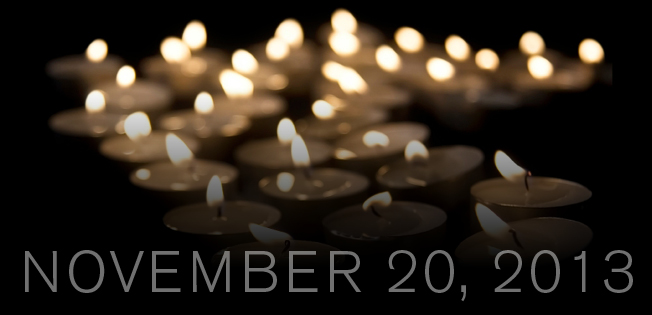 Wednesday, November 20 is the Transgender Day of Remembrance.
The Transgender Day of Remembrance is held in November each year to memorialize those who were killed due to anti-transgender hatred or prejudice. Although not every person represented during the Day of Remembrance self-identified as transgender, each was a victim of violence based on bias against transgender people. The list of deaths only contains those deaths known to the transgender community or that have been reported to the media. The Day of Remembrance is held in November to honor Rita Hester, whose murder kicked off the "Remembering Our Dead" web project and a San Francisco candlelight vigil in 1999. Rita Hester's murder — like most anti-transgender murder cases — has yet to be solved.
Here in Pittsburgh, multiple events are scheduled including a memorial service on Wednesday and a performance event Friday evening.
I remember in 2004 attending my first local TDOR service, held at St. Andrews Church and organized by Dr. Emilia Lombardi. It was very eye-opening for me and very humbling. Fast forward nine years and it's uplifting that we have so many different types of events taking place this week (and throughout the month) to memorialize the 71 members of our community on the 2013 list and to truly celebrate and honor the gifts that our trans sisters, brothers and neighbors bring to our community.
At the same time ... 71 people dead due to anti-trans violence. And that does not include those who took their own lives, those whose lives were lost due to other reasons, and those who remain nameless and faceless, unknown even in death. It is difficult for me to convey the anger and sadness I feel when I read the memorial list, especially as far too many of the deaths are horribly gruesome and vicious. It hurts to read it, but it is important to do so and remain committed to stopping the violence. 
Our blog has had a lot of publicity lately because of my  post about CBS using anti-trans jokes in their sitcom "Mike and Molly" - we've had over 8,000 hits to that post.  The most frequent abuse has been that I lack of sense of humor which is far less nasty than I expected. The response to this post suggests two things to me:
Speaking out as allies to the trans community is critical.
People are beginning to understand.
It is not enough, how can it be with 71 people dead due to violence in one single year? But it reinforces the message that if you and I don't speak out, it's not gonna stop.