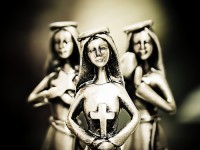 A social scientist is always in a…position.
Some would deem the position precarious, because those scientists ARE part of the world they study.  Others would deem the position magical, because…those scientists ARE part of the world they study.
Both sides of this coin come up frequently in the discussion section of a research journal article.  Did the scientists consider their own perspectives when gathering x, y or z data?  What precautions did they take in order to maintain confidentiality for their participants? If there was any potential for harm how did they manage to ensure that the greatest possible care was taken to help any subjects reporting distress receive resources to deal with said stress?
How about bloggers?  Bloggers are, in many ways, social scientists in their own right.  They make observations about their world or the world around them.  They record those observations in a particular style and sometimes draw conclusions from the data they've examined.  Other times, they're left with the quandary of how to deal with what they have in front of them.  And many times, their discussion section is fraught with more questions than answers.
Scientists delight in the fact that occasionally someone reads their work, extrapolates some sort of meaning, and wishes to know more…or perhaps chooses to debate them on a particular finding or approach.
And don't we do this same thing as bloggers?
I think about this two-sided coin sometimes because on days like Christmas I feel, in a strange way, like my family are "the participants" that need to be protected from any harm I might cause should I choose to write about my "findings."
I experienced this today as I talked my mantra out over and over in my head: "Just be in the moment, Kelly.  Don't run to your journal to write that quote…or pun…or magical moment you just witnessed.  Instead, just BE with your family."
In other ways, I feel like a participant myself, where my family is studying me.  My parents frequently ask me questions about what I write, they mention people who read my work and sometimes offer critiques or discussions of over content within my posts. 
Occasionally someone around our family table will even bring up some question, and my mother will say, "No, Kelly wrote that…. So I don't think (whatever)."  In other words, my posts are on some level, messages my parents are taking as some sort of data from their daughter that's been encoded into the family map within their brain.
And when I hear these comments, or feel uncomfortable I think… "Is it fair for ME to feel discomfort?  After all, it's my family that is frequently mentioned in MY writing which I've chosen to share with whomever might wander by The Red Dirt Chronicles group contributor blog. Or, now…BlogHer."
And what about my therapist training?  What does it say for a social scientist who is a blogger who happens to be a licensed marriage and family therapist to be writing about their daily observations.  Not data collection, but dynamic and interpersonal observations among and within the humans I'm around each day.  Like today; like on Christmas.
Frequently I could keep myself in the moment.  During these moments I found out information such as:
*The Oklahoma City Thunder is probably going to win tonight. (BTW – they did.) They're projected by the AP polls to win the Western Conference, but not to win the national NBA title.
*OSU basketball has great talent but the coaching isn't good, therefore they're not winning.  OU basketball has lesser talent, but great coaching, therefore they're winning.
A primer in Oklahoma sports is always something I'll get if I listen "in the moment" during Christmas.
But if I let myself slip into social scientist mode, I'll notice that x person is joining the conversation more than last year; y person is losing their hearing to a greater degree than before and is pretending to hear everyone the second time they repeat themselves; z person has quit eating a vegetarian diet.
It's just data – observations, comparisons, and differences in what was versus what now is.
And if I really let myself slip into family therapist mode, I'll notice more emotional things.  I'll occasionally see a micro-flash of something register on a person's face in reaction to a statement, watch them emotionally regulate, then respond in a socially acceptable fashion.  And…at that point, I say, "Stop it, Kelly.  Stop being a therapist, or a scientist or a blogger…and just be IN THE MOMENT."
I'm tired tonight.  I haven't mastered the disciplined rigor of a well-boundaried person who can compartmentalize which hat she wears, and when. 
Tonight I'm blogging…about observations….about myself….in relation to others….in relation to me….in relation to…you.
Sweet Christmas Night to you,
RDK
This is an article written by a member of the SheKnows Community. The SheKnows editorial team has not edited, vetted or endorsed the content of this post.
Want to join our amazing community and share your own story? Sign up here.